Back-to-school shopping to cost Americans more than ever amid inflation spike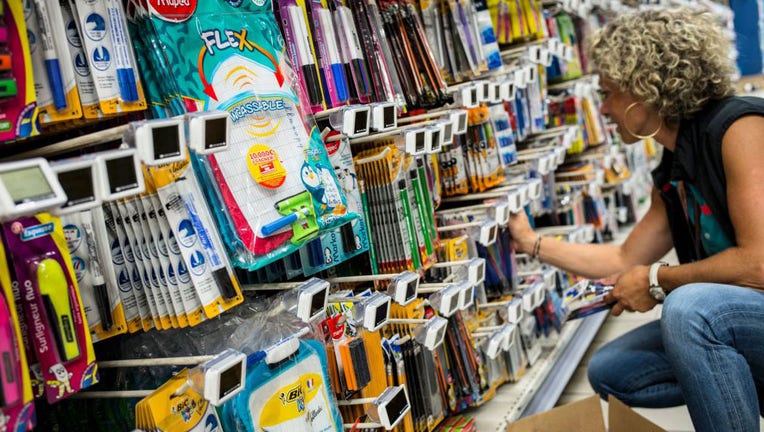 article
Back-to-school shopping is expected to cost Americans a record amount this year, as shoppers face high inflation across the country.
This weekend kicks off classroom shopping as nine states across the country have declared a sales tax holiday. The National Retail Federation predicts Americans will spend a record $41.5 billion, up from last year's $36.9 billion and the previous record of $37.1 billion set in 2021.
On average, families with children in elementary school through high school are expected to spend $25 more than they did last year, according to the NRF's report.
Meanwhile, spending on higher education is expected to hit $94 billion, a full $20 billion higher than last year's number.
AMERICANS EXPECT HIGH INFLATION TO STICK AROUND IN LATEST NEW YORK FED SURVEY
"Even though consumers plan to spend more on school and college-related items this year, they are still looking to find the best value and deals," said Phil Rist, an executive vice president at Prosper Insights & Analytics, a firm that conducted the survey along with the NRF. 
"Consumers are stretching their dollars by comparing prices, considering off-brand or store-brand items, and are more likely to shop at discount stores than last year," he added.
AMAZON IN TALKS TO OFFER FREE MOBILE SERVICES TO PRIME MEMBERS: REPORT
The NRF's survey conflicts with another back-to-school spending report from Deloitte, which predicted that spending would drop for the first time in nine years.
Overall back-to-school shopping was projected to shrink to $31.2 billion, compared to Deloitte's total of $34.4 billion in 2022, according to the new report, while consumers were personally expected to spend 10% less this year.
AMAZON REPORTEDLY HAS MORE AI FEATURES IN DEVELOPMENT FOR ASTRO ROBOT
Deloitte pointed to inflation for the predicted drop, saying it would cause Americans across all income levels to allocate their dollars toward necessities and skip out on non-essential purchases.
GET FOX BUSINESS ON THE GO BY CLICKING HERE
Back-to-school shopping is just now heating up, with high spending expected to continue for the first three weekends in August.
Read more of this story from FOX Business.