Recipe: Pumpkin & Tomato with Olives & Feta
This dish is inspired by my Mama's love of olives and feta cheese – there's not one holiday where we don't have olives of any kind on the table. I also love different uses of pumpkin beyond the traditional pie. 
This dish blends those two ideas together, and over the last few years, has become a requested holiday dish. I usually use a jar of our family's homemade canned tomatoes, but canned San Marzanos work wonderfully as well. Fresh marjoram is the most underappreciated and underutilized fresh herb in my opinion; it marries the pumpkin and tomato seamlessly. While pumpkins are my preference for this dish, butternut, delicata or acorn squash are sublime substitutes.
Ingredients (serves 6-8)
1 2½-3 pound sugar pumpkin, peeled and cut longways into ½-inch pieces
3 tablespoons extra-virgin olive oil
4-5 garlic cloves, peeled and finely chopped
28-ounce can whole peeled tomatoes
1 teaspoon Kosher salt
⅓ cup pitted Kalamata olives
4-5 ounces French feta cheese (or other soft feta)
1½ tablespoons fresh marjoram leaves
Freshly cracked black pepper to taste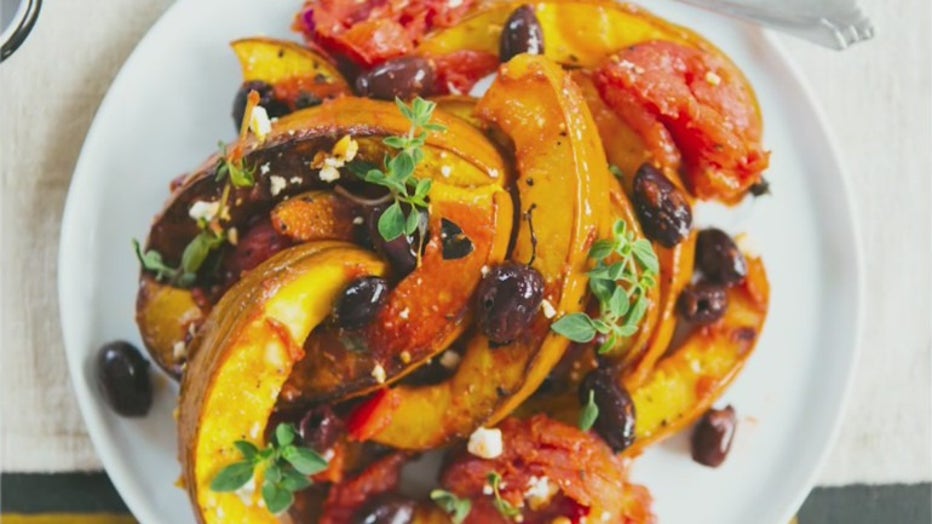 Directions
Heat a Dutch oven on medium-high for 2 minutes. Add the olive oil and wait until it shimmers, 2 more minutes. Place as many pieces of the pumpkin cut side down in the oil. Cook for 10 minutes, turning with tongs, to caramelize all the sides.
Add the tomatoes, garlic and salt. Stir with a wooden spoon. Cover slightly. Continue cooking for 20-30 minutes until the pumpkin is tender with a knife. Break up the tomato pieces with the backside of the wooden spoon. Take off the heat.
Transfer to a large platter. Layer the feta cheese and olives on top. Finish with the marjoram. Add black pepper to taste.
Serve.