Irma whips Southeast: 3 dead in Georgia, 1 in South Carolina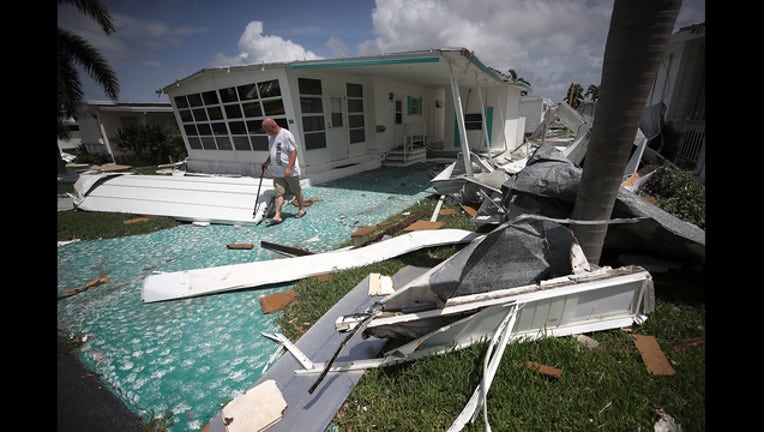 article
ATLANTA (AP) - Irma weakened to a still-deadly tropical storm as it swirled beyond Florida Monday, killing at least three people in Georgia, flooding the coast, sending trees crashing onto homes and forcing the world's busiest airport in Atlanta to cancel hundreds of flights.

The former hurricane remained an immense, 415-mile (668-kilometer) wide storm as its center moved on from Florida Monday afternoon, giving its still-formidable gusts and drenching rains a far reach.

Some 540,000 people were ordered to evacuate days earlier from Savannah and the rest of Georgia's coast. Irma sent 4 feet of ocean water into downtown Charleston, South Carolina, as the storm's center passed 250 miles (400 kilometers) away. City officials urged residents to stay off the streets as 3 feet (0.91 meters) of water above dry ground is expected overnight.

In Atlanta, people nervously watched towering oak trees as the city, 250 miles inland, experienced its first tropical storm warning.

The body of a 62-year-old man who climbed a ladder behind his home was found under debris on the roof of his shed in southwest Georgia, where winds topped 40 mph (65 kph), Worth County sheriff's spokeswoman Kannetha Clem said. His wife had called 911 saying he'd had a heart attack.

"He was lodged between two beams and had a little bit of debris on top of him," Clem said. "He was on the roof at the height of the storm."

Another man, in his 50s, was killed just outside Atlanta when a tree fell on his house, Sandy Springs police Sgt. Sam Worsham said.

And a woman died when a tree fell on a vehicle in a private driveway, according to the website of the Forsyth County Sheriff's Office.

Authorities did not immediately release the names of any of the three who died in Georgia.

Charles Saxon, 57, became South Carolina's first recorded death when he was struck by a tree limb while clearing debris outside his home in Calhoun Falls amid wind gusts of about 40 mph, according to a statement from Abbeville County Coroner Ronnie Ashley.

Communities along Georgia's coast were swamped by storm surge and rainfall arriving at high tide Monday afternoon. On Tybee Island east of Savannah, Holland Zellers was grabbing a kayak to reach his mother in a home near the beach.

"In the street right now, the water is knee-to-waist deep," Zeller said.

Tybee Island City Manager Shawn Gillen said waters were receding quickly, but many of the 3,000 residents' homes were flooded.

"I don't think people who have lived here a long time have ever seen flooding this bad," Gillen said.

The tidal surge sent damaged boats rushing more than three blocks onto downtown streets in St. Marys, just north of the Georgia-Florida state line, St. Marys Police Lt. Shannon Brock said.

Downtown Atlanta hotels remained full of evacuees. Many milled about the CNN Center, escaping crowded hotel rooms in search of open restaurants. Many were glued to storm coverage on the atrium's big screen. Parents pointed out familiar sites, now damaged, to their children.

"We've been here since Friday night, and we're ready to go home" to Palm Beach County, Marilyn Torrence said as her 4-year-old colored.

Bynum reported from Savannah. Associated Press reporters Kim Chandler in Montgomery, Alabama, John Raby in Charleston, West Virginia, Seanna Adcox in Columbia, South Carolina, and Kate Brumback and Bill Barrow in Atlanta contributed to this story.