Spangenberg, Lopez lead Padres in 11-4 win against Braves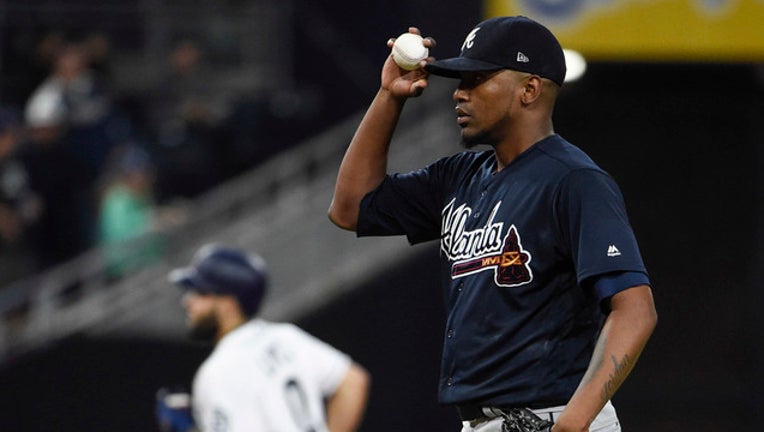 SAN DIEGO, Calf. - After beating up on the other last-place teams in the NL last week, the San Diego Padres kept rolling when they opened a series against the NL East-leading Atlanta Braves.
Cory Spangenberg homered and tripled, Raffy Lopez had a homer among his career-high three hits and Eric Hosmer and Franmil Reyes also went deep to lead San Diego over the Braves 11-4 on Monday night. Clayton Richard (4-6) pitched seven strong innings.
Nine of the Padres' 13 hits were for extra bases.
The Padres sent 11 batters to the plate in the fifth, scoring seven runs on a triple, four doubles, a single, two walks and a sacrifice fly. Spangenberg tripled in a run, Hosmer doubled in two and Travis Jankowski and Jose Pirela each had an RBI double. Lopez hit an RBI single and Freddy Galvis hit a sac fly. Five of the hits came with two outs.
"It was a lot of fun, especially the first game of a series, to dig into their bullpen early," Hosmer said. "We all know how good that bullpen is so it's big for us to dig in there the first game. Hopefully that can show up in the later games in the series."
The Padres took three of four against Miami and two of three against Cincinnati before routing the Braves.
"It's just timely hitting," Hosmer said. "We're getting those big hits with guys in scoring position, those big hits with guys on. It's been a lot of fun. We've just got to keep it going."
Manager Andy Green called the fifth "as fun of an inning as we've had offensively this year."
Richard allowed three runs and six hits, struck out five, and walked two. He gave up a two-run double to Charlie Culberson an RBI single to Ender Inciarte. Richard drew a walk during the big fifth-inning rally.
Braves starter Julio Teheran walked Pirela opening the fifth and then was visited for the second time in the game by the team trainer. He then came out with an undisclosed injury. Luiz Gohara came on and allowed six runs and six hits.
Teheran said he bruised his right thumb during his at-bat in the third, when he grounded out.
"I got jammed with it and I couldn't feel the ball in the fifth inning and I wasn't the best," he said. "I kept competing like I used to do but I wasn't my best. I wasn't throwing hard. Then I couldn't feel the ball and I threw four balls that weren't close to the plate."
Teheran (4-4) allowed four runs and five hits, walked three and struck out two.
Teheran gave three homers. Hosmer went deep in the first, his seventh, and Spangenberg connected with one out in the second, his fourth. Lopez led off the fourth with his third.
Reyes homered off Peter Moylan leading off the sixth, his fifth.
Gohara said he "just got a little bit excited and sped up the game. When I figured out I was speeding up it was a little bit too late. Kind of learn from that and get it going for the next game."
Manager Brian Snitker said Gohara was "just rusty as all get out. Threw a side yesterday and looked pretty good. He just hadn't faced competition in a while so it's just going to take a while to get him back going."
OH WELL
Braves first base coach Eric Young tried to throw a foul ball into the crowd in the third inning but didn't throw it hard enough to get it over the new extended netting at Petco Park. His second try came up short, too, so the smiling coach instead rolled it to a bat boy.
UP NEXT
Braves: LHP Sean Newcomb (6-1, 2.73) is scheduled to start Tuesday night. He beat San Diego 3-0 last year, allowing six hits in six innings while striking out eight.
Padres: RHP Jordan Lyles (2-1, 3.65) is set to make his sixth start. It will be his most since making since making 10 with Colorado in 2015.