Love, James lead Cavs to another sweep, 100-99 over Hawks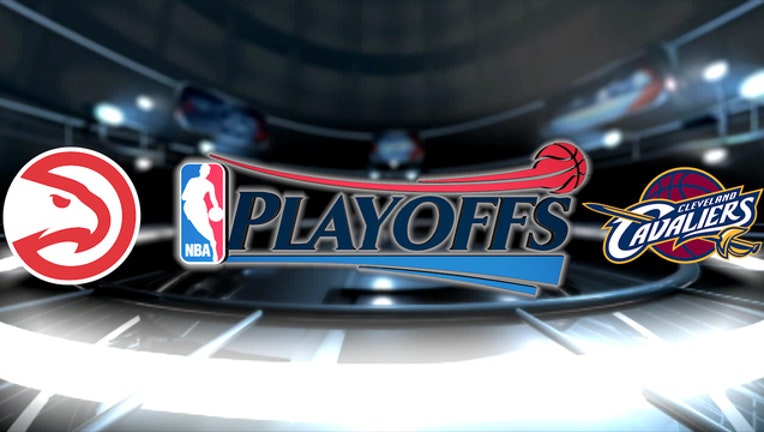 article
ATLANTA (AP) - Cleveland's Big Three is on quite a roll.
Two playoff series, two sweeps.
Now, the Cavaliers get to rest up for the Eastern Conference finals.
Kevin Love scored 27 points, LeBron James knocked down a huge shot with 39.2 seconds to go, and Kyrie Irving turned in another dazzling performance to lead Cleveland past the Atlanta Hawks 100-99 on Sunday.
The Cavaliers finished off the second-round series with four straight wins, just as they did in the opening round against Detroit.
"This is more than I dreamed of," Irving said. "It's what I genuinely enjoy about basketball, playing with great guys."
When James returned to Cleveland after four years in South Beach, winning the franchise's first championship was the only goal that mattered. Love was acquired from Minnesota to complete the dynamic trio, but the Cavaliers came up short in Year 1 when both Love and Irving went down with injuries in the playoffs.
Now, fully healthy and finally comfortable together after some rocky moments, LeBron & Co. cruised into the conference finals to meet either Toronto or Miami. The Raptors lead that series 2-1.
"We're in a great rhythm right now," said James, who won two titles with the Heat and wants to bring one home. "We know exactly where we want to be on the floor."
Love carried Cleveland much of the game, hitting one 3-pointer after another as the Hawks continually left him open in the corner. He went cold down the stretch but still finished 8 of 15 from beyond the arc. He made only one two-point basket — with his toe on the stripe.
James and Irving finished with 21 points apiece. James also doled out nine assists, while Irving had eight.
The Hawks had one last chance to extend the series and put the ball in the hands of Dennis Schroder, who led the team with 21 points. The speedy point guard drove into the lane but was surrounded by James and Tristan Thompson. Schroder slipped and James tied up the ball, forcing a huge mismatch of a jump ball with 2.8 seconds left.
"I just tried to be aggressive,' said Schroder, who was at least hoping to draw a foul. "They didn't call it, so we can't take it back. We've got to live with that."
With a 7-inch height advantage on the jump, James easily flicked the ball toward the sideline. Paul Millsap wound up with it, flinging up a desperation shot, but it was after the buzzer and didn't go in anyway.
Cleveland launched into a raucous celebration on Atlanta's home court.
"We know Atlanta is a tough team, and the closeout game is the hardest game," said coach Tyronn Lue, who took over the Cavaliers during the season after David Blatt was fired.
This was a rematch of last year's conference finals, in which the Hawks were the top seed but got swept by the Cavaliers. With Cleveland seeded No. 1 this time, the result was the same. Atlanta Hawks had fourth-quarter leads in three of the four games but wasn't strong enough to finish, dropping to 0-12 in the postseason against the Cavs.
Schroder put the Hawks up 97-96 on a drive with 1:31 remaining. But James, after having one shot blocked and missing two tip-ins, got another chance when a video review overturned a call that Cleveland had knocked the ball out of bounds. Off the inbounds pass, Matthew Dellavadova found James streaking into the lane and Millsap was called for goaltending.
Even though the call stood after another review, Millsap insisted it was a clean block.
"I'll believe that all summer," he said.
Schroder's next shot was blocked by Thompson, and the Cavaliers isolated James on the wing against Millsap. James stepped back and hit the jumper, pushing Cleveland ahead 100-97. Schroder scored on a drive with 34.4 seconds left and James missed the potential clinching 3.
It didn't matter.
The Cavaliers buckled down at the defensive end and wrapped up the series.
3-POINT SHOW
Cleveland had its worst showing of the series from beyond the arc, making 16 of 37, but they still finished at nearly 51 percent (77 of 152).
In fact, the Cavaliers were much better from long range than they were closer in, hitting just 42 percent of their remaining shots (81 of 191).
"That's where the league is going," Millsap said. "Three-point shots are a killer, man."
TEAGUE PLAYS
Jeff Teague played for the Hawks after committing a flagrant foul on James in the final minute of Game 3.
Lue said he wasn't surprised that the league decided not to upgrade the foul, which could have resulted in a one-game suspension for Teague. Lue called it just "a little shove out of frustration."
Teague wasn't much of a factor, anyway, scoring just five points and sitting out the closing minutes.
TIP-INS
Cavaliers: Channing Frye followed his 27-point effort in Game 3 with eight points. ... Three players finished with double-figure rebounds, led by Love with 13. James and Thompson had 10 apiece. ... Cleveland has 11 straight wins over Atlanta going back to the 2015 conference finals.
Hawks: Thabo Sefolosha started for the second straight game, with Kyle Korver again coming off the bench. Sefolosha had 16 points, while Korver managed only two on 1-of-4 shooting, missing both 3-point attempts. ... After being outrebounded 55-28 in Game 3, the Hawks had a 42-41 edge on the boards. Millsap had nine rebounds, and reserve Kris Humphries chipped in with seven.
___
Follow Paul Newberry on Twitter at www.twitter.com/pnewberry1963 . His work can be found at http://bigstory.ap.org/content/paul-newberry .