LeBron, Cavs hold off Hawks 104-93 in Game 1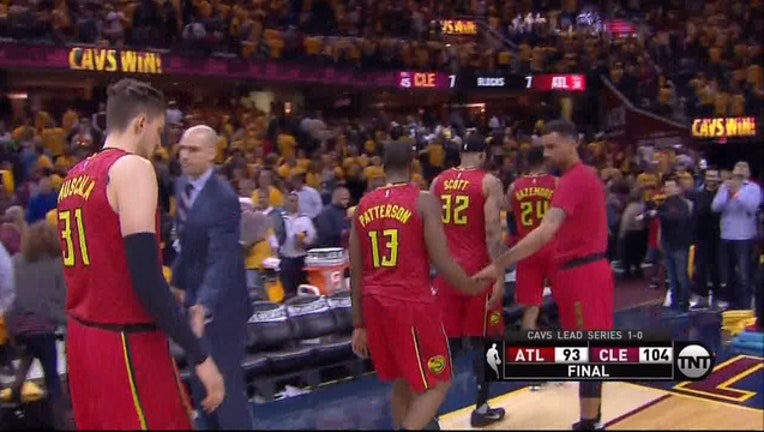 article
CLEVELAND (AP) - CLEVELAND (AP) — Rusty, rested or reeling, LeBron James and the Cavaliers find a way to beat the Hawks in the playoffs every time.
James scored 25 points, Kyrie Irving added 21 and Cleveland withstood a strong second-half surge by Atlanta to maintain its chokehold on the Hawks with a 104-93 victory Monday night in the opening game of their second-round Eastern Conference series.
James converted a critical three-point play with 2:09 left for the Cavs, who blew an 18-point lead in the second half and fell behind with 8 minutes left in the fourth quarter before making several clutch plays down the stretch.
Cleveland swept Atlanta in last year's Eastern Conference finals and has won eight straight over the Hawks, moving to 9-0 against them in the postseason.
This was by no means easy, however.
"We needed everything," said James, who gave his team just that, adding nine assists, seven rebounds and five steals. "We played an OK game. I don't think we played to our standards. The first game is always kind of a feel-out."
Dennis Schroder scored a playoff career-high 27 and rallied the Hawks before they crumbled in the closing minutes. Atlanta's offense bogged down in crunch time and the Hawks only scored two field goals in the final 4 minutes.
Paul Millsap had 17 points and 13 rebounds, and Kent Bazemore added 16 points for Atlanta, which got just eight points from Jeff Teague.
Game 2 is Wednesday night.
Despite the loss, the Hawks were mostly pleased with their effort.
"We felt good that we gave ourselves a chance," said Bazemore, who left the floor clapping his hands. "No moral victories, but you want to keep your mojo positive. We'll get another crack."
James' three-point play, which he punctuated by flexing his biceps, came after he stripped the ball from Schroder and the Cavs kept their possession alive with a pair of offensive rebounds, one by Tristan Thompson, the other by J.R. Smith.
The Cavs didn't show any rust following an eight-day break after the first round until the third quarter, when their offense slowed and the Hawks got hot. But when it mattered most, the defending conference champions came through, and as always, James led the way.
Kevin Love, who was injured when the teams met in the postseason last year, added 17 points but was just 4 of 17 from the floor and appeared to hurt his right shoulder. Thompson added 14 rebounds, including seven on the offensive end.
Thompson has been a rebounding marvel for the Cavs, comparable to what Dennis Rodman once did for Michael Jordan and the Bulls.
"What Dennis did for the Bulls on the floor," James said, pausing for dramatic effect, "Double-T does for our team, just giving us extra possessions."
The Cavs came out strong and seemed intent on knocking out the Hawks. Love, who missed six of his first seven 3-pointers, knocked down a pair from long range and James finished a 2-on-1 break with a thunderous dunk to give Cleveland a 72-54 lead with 4 minutes left in the third.
With Cleveland's sell-out crowd roaring, the Hawks looked to be in big trouble.
Atlanta, though, responded with its own deep barrage, draining four 3-pointers in a 16-3 spurt to close the quarter and pull within 75-70 entering the fourth.
But with a chance to steal Game 1 and end their futility against Cleveland, the Hawks came up short.
"We'll be tossing and turning tonight, going over things we could have done better," said Kyle Korver, who missed his only 3-pointer.
LOVE HURTS
Love, whose dislocated left shoulder ended his first postseason last year, banged his right shoulder in the fourth when he pump-faked Bazemore into the air and drew contact while shooting a 3-pointer.
During a timeout, one of Cleveland's medical personnel worked on Love, who stayed in the game.
"I'm fine," said Love, who made two of his free throws. "I can't catch a break with my shoulders."
STOPPING KORVER
The Cavs focused on shutting down Korver, who averaged 12.2 points and took 52 shots during Atlanta's six-game victory over Boston in the opening round.
"The Cavs have done that to me the last couple of years, making it very hard to get shots," he said.
TIP-INS
Hawks: Al Horford went 4 of 13 in his team-record 71st playoff game. ... The Hawks are making their ninth straight playoff appearance, the second-longest streak in the NBA to San Antonio's 19 in a row. They have only advanced beyond the East semifinals once during their run. ... Atlanta came in 65-16 in the postseason since 1950-51 when holding opponents to under 40 percent shooting.
Cavaliers: Cleveland's nine-game postseason winning streak over Atlanta is the second-longest active one in the league, topped only by the Cavs' 12-game run over Detroit. ... James played in his 183rd playoff game, tying him with former Cavs coach Byron Scott for 14th place on the career list. ... LSU's Ben Simmons, who is expected to be the No. 1 overall pick in this year's draft, sat courtside. He's being represented by James' agent, Rich Paul.