Julio Jones' hometown proud of their favorite Falcon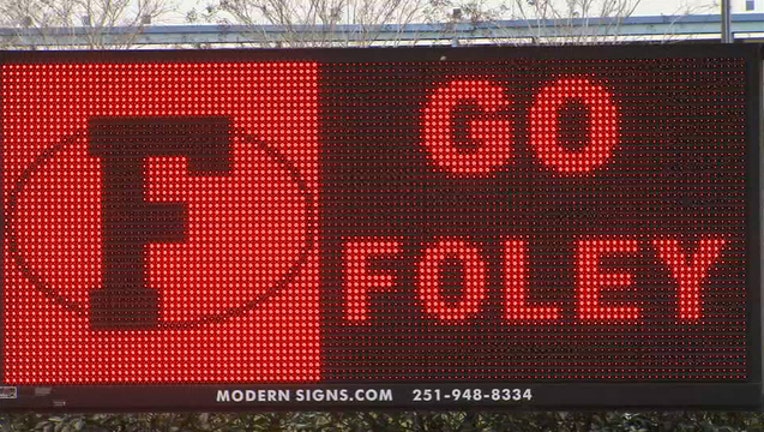 article
FOLEY, Ala. - Many people have a story. They saw the greatest catch, they watched the big game against Daphne, they predicted where he'd commit. For Kerry James, he claims to have once beaten in spades the guy who may now be the world's best football player.
"It's surreal, know what I'm saying," said James, known to his friends as 'Tank.' "I'm glad he made it."
Tank works at the Wolf Bay Lodge restaurant in Foley, Alabama; and while he may be the biggest Julio Jones fan in the building, he's not alone in the city. About 20 minutes north of Gulf Shores, the city of about 17,000 people has produced several NFL players. Ken Stabler was the first, the Falcons star receiver, Foley High School class of 2008, one of the latest.
"To know someone got what he wanted out of life, he's really doing it," said James. "I like it. I'm proud of him."
Jones was highly recruited out of Foley High School, playing on a team alongside other major recruits like current Los Angeles Charger offensive lineman D.J. Fluker.
"Even in high school, he was always the first and last in the weight room," said Foley's mayor John Koniar, a long-time season ticket-holder at the high school. "Never took a play off."
Jones says he still feels the love from back home, and appreciates the encouragement from the people who've known him the longest.
"Just the support, really," said Jones. "It shows you how to love one another. People being there from the beginning to now."
Kids in Foley have heard the stories. The touchdowns, the crazy catches, sure; but they most often hear stories about how Jones made the right choices, even when they weren't easy.
"I want them to know, it's more to drugs and staying out of trouble," said Vera Quaites, the city councilwoman for the Aaronsville neighborhood of Foley where Jones grew up. "You can make it big. You don't have to worry about getting locked up, spending your life in jail, there's bigger and better things in life to look forward to."
Jones has faced hurdles of his own. That includes when, according to AL.com, in 2008 Jones was a witness in a murder trial. It wasn't always easy.
"For me, just overcoming a lot of things to get to where I'm at," said Jones. "But that was then and this is now."
The message comes through for kids in the growing city.
"To know you can make it, you don't have to be like everybody else, selling drugs, you can be whatever you want to be when you're older," said 7th grader Andy Quaites.
Jones embraces the idea that kids look up to him, especially those back home or who got to know him when he played for the University of Alabama.
"It's great just to represent someone that's not doing other things, giving Foley a bad rep," said Jones. "They always supported me over the years. Through my accomplishments. Alabama fans, I hear a lot of 'roll tides' with a lot of 'rise ups.' It's just great."
Many in Foley will be cheering for Jones and the Falcons against the Patriots in the Super Bowl. They're proud to see one of their own representing their city so well, and happy he's an example to kids of how to overcome the hurdles you face in life.
Super Bowl LI will be played at NRG Stadium in Houston, Texas on Feb. 5 at 6:30 p.m. Full coverage can be found on FOX 5 Atlanta.