How does USWNT replace suspended Rose Lavelle?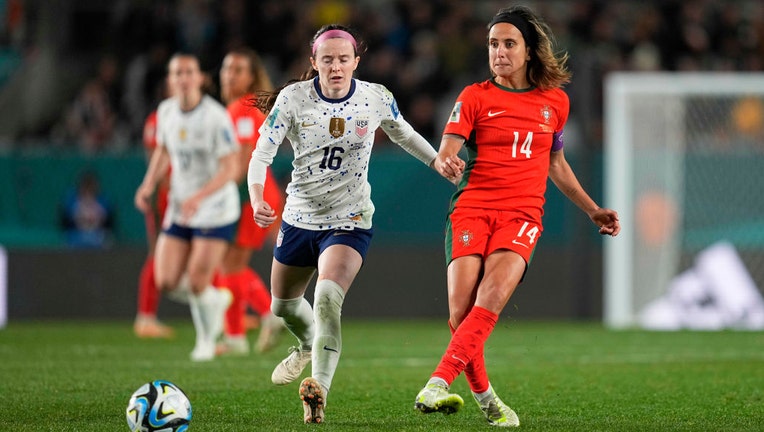 article
AUCKLAND, New Zealand - Kelley O'Hara made a beeline for Rose Lavelle as soon as the final whistle blew Tuesday.
The United States had just tied World Cup debutant Portugal, 0-0, and the result meant the Americans would advance to the next round. Sure, the squad had technically achieved its objective of making it out of Group E, but there was also an overwhelming sense of failure that hung over Eden Park. The USWNT was projected to win its group, not just make it out alive.
And now, to make matters worse, the Americans would have to prepare for a round of 16 matchup without Lavelle after the star midfielder received her second yellow card in the past two games. 
Lavelle was incredulous after the foul, telling the referee, "No, no, no." And she was visibly down on herself after the match, so O'Hara embraced her with some words of encouragement.
RELATED: Rose Lavelle picks up second yellow card, will be suspended for USWNT's next match
"I wanted her to know how much her presence on the field tonight had such an impact," O'Hara told reporters after the game. "Her energy and her fight and her aggressiveness and just her flair. Everything about her was huge for us and I don't want her to forget that. And I want her to keep her head up and not get too down and just know how much she did for us tonight."
Now the focus shifts to how U.S. coach Vlatko Andonovski will replace Lavelle in the round of 16 match against Sweden looming Sunday (coverage begins at 4 a.m., ET, with kickoff at 5 a.m. ET on FOX and the FOX Sports app).
Lavelle, the star midfielder, came into this tournament with a knee injury and had been slowly building up her minutes. Everything was going according to plan – she played 30 in the first match against Vietnam, 45 against the Netherlands and 90 against Portugal. 
Her presence on the field in those games added a little something extra, which was certainly evident against the Dutch when her perfect corner kick found Lindsey Horan's head for a massive equalizing goal in the second half.
Lavelle's health and availability has been a top line of questioning for Andonvoski ever since the team arrived in New Zealand in early July. And when the central midfielder finally earned the start in a pivotal showdown against Portugal, there was relief.
"Rose is one of the best players in the world," Andonovski said the day before the Portugal match. "And not having her fully for 90 minutes in the first two games obviously impacted the team because she was penciled in as a starter a long time ago."
The U.S. will face a huge challenge from Sweden, ranked No. 3 in the world by FIFA, in the round of 16. Which means Andonovski is going to have to take some risks and make big decisions for the USWNT to avoid elimination.
One way to do that? Move Julie Ertz back into the defensive midfield to add a spark. Ertz has played all three matches so far at center back— as a direct swap for the injured Becky Sauerbrunn — and she has excelled there alongside Naomi Girma. 
But Ertz helped the U.S. win a World Cup four years ago playing as a holding midfielder and could be that organizational piece and missing disrupter the U.S. needs, especially in a potential matchup against a physical Swedish team.
"I feel comfortable with Julie playing as a No. 9 or a 7 or 11," Andonovski said last week. "She'll give you her best and she'll play 90 minutes, and she'll be good."
Of course, this kind of position shift would cause a ripple effect. What would Andonovski do with Andi Sullivan, who has started as a defensive midfielder for most of the last two years while Ertz was on maternity leave? Would he more formally replace Lavelle with Savannah DeMelo or Ashley Sanchez?
DeMelo, who earned her first USWNT cap in the send-off game July 9, started the first two World Cup matches before being subbed off for Lavelle. Sanchez might be more stylistically similar to Lavelle when it comes to creativity, and that's something the squad has been lacking in this tournament.
Another thing to consider if Ertz shifts into the midfield: Who backfills her?
Andonovski's personnel options include Alana Cook, who amassed more playing time than any other U.S. player in 2022, or Emily Sonnett, who came on in the final minutes against Portugal. It's no secret he prefers Ertz and wasn't planning to utilize Cook or Sonnett, unless the unthinkable happens.
And now, maybe it has.
So where does all of this leave Andonvoski?
"It's not like we don't have the pieces," Andonovski said. "We have executed our principles on both sides of the ball against good opponents with the group of players we have here, and I have no doubt that we can execute against good opponents going forward."
Meanwhile, Lavelle will do everything she can to still impact the team. Even if the greater impact will come from absence.
"I'm disappointed I can't help the team out on the field next game," she said. "There's still a lot of ways that I can help the team off the field, so I guess that's where my energy will be now."
Get the latest updates on this story at FOXSports.com
Laken Litman covers college football, college basketball and soccer for FOX Sports. She previously wrote for Sports Illustrated, USA Today and The Indianapolis Star. She is the author of "Strong Like a Woman," published in spring 2022 to mark the 50th anniversary of Title IX. Follow her on Twitter @LakenLitman.