Game of the Week: Riverside Military Academy @ Commerce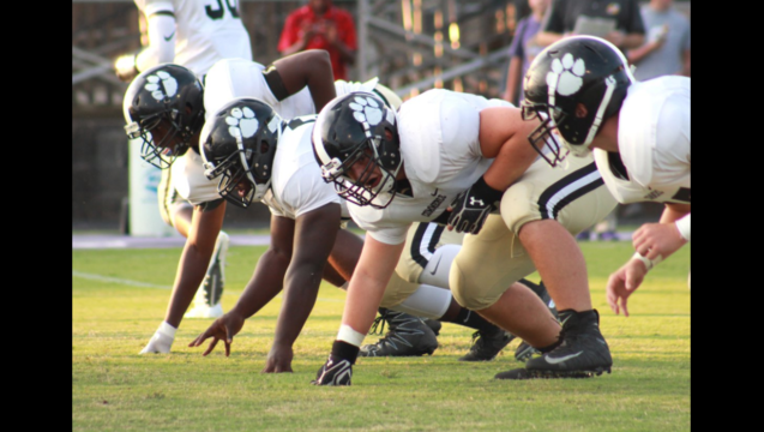 article
COMMERCE, Ga. - Expect a full house at Ray Lamb Stadium Friday night when the Commerce Tigers (8-0) host the Riverside Military Academy Eagles (4-4) in the High 5 Sports Game of the Week.
"We've got a great tradition here," said Commerce Principal Will Smith. "We really pack the house on Friday nights- we'll have 100 percent capacity on our side. It's not like most schools, we have a 42-year season ticket holder who comes to games. People buy row two, seats three and four around here if you know what I mean."
It's no wonder people line up to buy individual season tickets at Commerce. The Tigers have won 17 region titles and two state championships in 93 seasons of football. This year marks their eighteenth consecutive playoff appearance and if they can outlast the Eagles, they'll sit atop Region 8-A (division B) before entering the play-in round on November 2nd. Smith says that doesn't mean the Tigers are overlooking this week's opponent.
"Riverside has great speed from what we've heard. From what we heard, they should have beaten a very good Hebron Christian team last week, so we know they'll be ready to play," said Smith.
Commerce will be playing without perhaps their best all-around athlete in Dylan Deaton, who tore his ACL against Towns County last week and is out for the season. The three-sport star provided senior leadership on offense and defense and was a big part of head coach Michael Brown's "brotherhood" according to Smith, but the Tigers' winning brand of football is based on fundamentals, not individuals.
Smith told High 5 Sports that each Commerce player knows his job and expects to do it better than the opposition every Friday night. The winning formula is based on controlling the football, limiting turnovers and avoiding negative plays. Commerce doesn't have a big name recruit on the roster, but they continue to win by playing sound fundamental football on both sides of the ball.
Riverside Military Academy is in search of their first winning season since 2008, and second-year head coach Nicholas Garrett has them playing well, shutting out two of their last three opponents. You can watch extended highlights and post-game interviews of Commerce vs. Riverside Military Friday night on The Big Show following Game Three of the World Series.