Ga Tech wins fourth straight, beating Virginia 30-27 in OT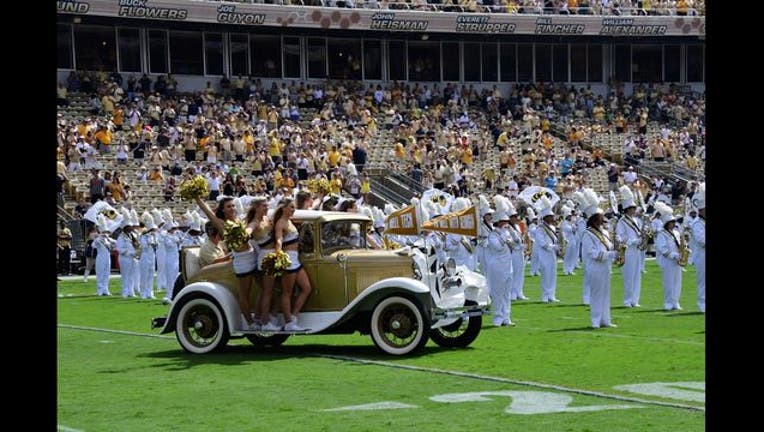 article
ATLANTA (AP) - Wesley Wells kicked his fourth field goal of the game, a 40-yarder in overtime, and Georgia Tech won its fourth straight when Virginia's Brian Delaney missed his attempt from 35 yards to give the Yellow Jackets a 30-27 victory Saturday.
Wells booted the longest field goal of his career from 48 yards to push Georgia Tech to a 27-24 lead with 1:04 remaining in regulation. But the Cavaliers drove for the tying field goal, with Delaney connecting from 31 yards on a do-over with 1 second left after Virginia was flagged for a false start on his first attempt.
The Yellow Jackets (7-4, 5-3 Atlantic Coast Conference) clinched a winning season, quite a comeback from a 1-3 start. Virginia (7-4, 4-3) had already been eliminated from the ACC Coastal Division race before the game when Pittsburgh won at Wake Forest, and Georgia Tech only compounded the Cavaliers' misery by relying on an unlikely formula for a run-oriented team that struggled to find a reliable kicker at the beginning of the season.
Brad Stewart made a brilliant diving catch for Georgia Tech's only completion of the game, a 37-yard play that set up Wells' go-ahead kick. Then Wells won it in overtime - not bad for a walk-on who only took over the No. 1 job after two other kickers flubbed their chances.
Delaney badly hooked his try that would have forced a second overtime .
Wells is now perfect on eight attempts this season, but nothing compared to the pressure of his last two kicks against the Cavaliers. The one in overtime barely made it through, skimming the right upright.
Early on, Georgia Tech turned a 7-3 deficit into a 13-7 lead in an 11-second span.
With Virginia backed up on its own 1 after a punt late in the first quarter, Bryce Perkins took a shotgun snap in the end zone and rolled left to throw, only to be grabbed by Georgia Tech's Brant Mitchell. Perkins tried to break free and get rid of the ball, but 325-pound nose tackle Brandon Adams leveled the quarterback for a safety .
Perkins limped off the field with the help of two teammates and had to sit out the next series. Making matters worse for the Cavaliers, Juanyeh Thomas returned the free kick 77 yards for a touchdown, and quarterback TaQuon Marshall tacked on a 2-point conversion with a run.
Perkins sat out the next series, but freshman Brennan Armstrong, playing only the third game of his career, guided the Cavaliers to a go-ahead touchdown. On third-and-3, Armstrong threw a short pass near the sideline to Joe Reed, who shook off a defender and raced for a 56-yard touchdown in front of the Virginia bench .
After the Yellow Jackets reclaimed the lead on Walls' second field goal, Perkins returned to the game and guided a 10-play, 77-yard drive that was capped by his 9-yard touchdown run.
Virginia didn't have to punt in the first half while building a 21-16 lead. In fact, with Perkins in the game, the Cavaliers never even got to third down.
THE TAKEAWAY
Virginia: A brutal loss for the Cavaliers, who gave up a safety, a touchdown on a free-kick return, and botched a punt return to give the ball back to Georgia Tech, leading to the home team's only offensive touchdown.
Georgia Tech: A gutsy performance by a team that seemed headed for a dismal season, but has now put itself in decent position when bowl invitations go out.
UP NEXT
Both teams close the regular season against their state rivals.
Georgia Tech makes the 70-mile trip to Athens next Saturday to take on No. 5 Georgia. The Yellow Jackets have won in their last two appearances at Sanford Stadium and hope to deliver another stunner against the playoff-hopeful Bulldogs.
The Cavaliers will hit the road for the second week in a row, facing Virginia Tech on Friday in Blacksburg.
___
Follow Paul Newberry on Twitter at www.twitter.com/pnewberry1963 . His work can be found at https://apnews.com/search/paul%20newberry
___
For more AP college football: https://apnews.com/Collegefootball and https://twitter.com/AP_Top25