Column: Braves Go From Model Franchise to Laughingstock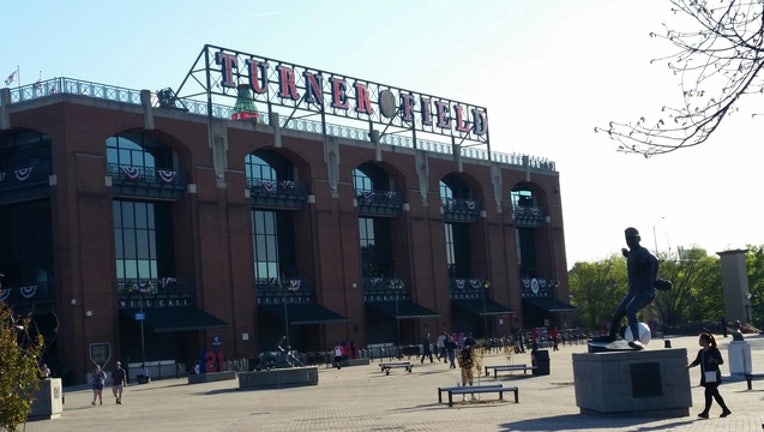 article
ATLANTA (AP) - A slew of pennants line the left-field facade at Turner Field, a sobering reminder of the team that used to play here.
They won't be putting up another one, not in this ballpark.
The Atlanta Braves are heading for a new stadium in 2017, and this season is already lost.
Really, the only real suspense is how long manager Fredi Gonzalez will last (probably not much longer) and how many games this dumpster of a team will lose by the time it's done.
It's going to be a lot, for sure.
Will it be a season of historically bad proportions? It very well could be.
With another loss Friday night to Arizona, the Braves slid to 7-21 for the season, a hideous .250 winning percentage. It's still early, but only three teams in baseball's modern era (1900-present) have finished at those depths.
Atlanta's plunge over the last two seasons has been especially jarring in light of this team's longtime place as one of baseball's flagship franchises, a team that won an unprecedented 14 straight division titles and captured its most recent NL East championship just three years ago.
Now, the Braves are a team that can't hit (last in the majors in runs, homers and average), can't pitch (a 4.81 team ERA) and can't field (only one team has committed more errors than Atlanta's 24).
More troubling is the absentee ownership, a callous front office that has left Gonzalez unfairly flapping in the breeze, and the impending move to the suburbs for a stadium that wasn't needed (Turner Field is only 20 years old) and will be paid for with a huge chunk of taxpayer dollars.
A team that once did everything right — at least until it got to the World Series — is stirring up all sorts of ill will that might take years to overcome, even if the massive rebuilding job pans out in the end.
In the meantime, this season is a lame duck in every sense of the word.
Outfielder Jeff Francoeur took note of that while remembering how he played on a 99-loss Phillies team a year ago.
"This year is a little different," he said before Friday's 7-2 loss. "Last year, there were a lot of, lot of, lot of young guys. Here, it's kind of stuck in the middle."
Much of the vitriol in Atlanta has rightly been directed at Liberty Media, the team's out-of-state and out-of-touch owners, who have sliced payroll and seem to view the Braves as a real estate entity more than a baseball team. Indeed, that's a big reason the team is heading to suburban Cobb County.
Liberty Media was able to find a sucker of a local government that was willing to fork over upward of $400 million to build a stadium and an adjacent shopping mall that the team's ownership is apparently more excited about than the product it's putting on the field.
In fact, when season tickets for 2017 go on sale next week, the slogan should be: "Don't miss a chance to see all the exciting action at Braves, Bath & Beyond."
"It's tough," said Gonzalez, who admitted to doing some "soul searching" during an off day Thursday, with speculation swirling about his future. "But that's a challenge I'm going to take. We're not going to 90-10 the rest of the way. But we're going to play better."
To be fair, the Braves are attempting to follow a path that worked in Kansas City and Houston, where scorched-earth overhauls resulted in short-term pain but gratifying results in the end. The Royals have played in the last two World Series and are the reigning champions. The Astros went from 111 losses in 2013 to a playoff spot last season (though they've taken a step back this year).
But to make it work, a team must make a LOT of right decisions on players who are often several years away from playing in the big leagues. The Braves deserve points for fleecing Arizona of former No. 1 pick Dansby Swanson and top pitching prospect Aaron Blair, but a couple of moves have been real puzzlers.
Andrelton Simmons, perhaps the best defensive shortstop in the game and only 26, was dealt to the Angels. The bigger head-scratcher came at last year's trade deadline, when the Braves traded a young left-handed starter (Alex Wood) and a top infield prospect (Jose Peraza) to the Dodgers for Cuban defector Hector Olivera.
Olivera is already 31, didn't show much late last season or early this year, and now his future is in limbo after an arrest last month on misdemeanor assault and battery charges. He's on leave while his court case plays out, and the Braves still owe him nearly $30 million for the next four years under the deal he signed with Los Angeles, even with the Dodgers picking up part of the hefty contract.
For those in the midst of this rebuilding job — even those who are supposed to be a big part of the future — are having trouble seeing light at the end of the tunnel.
"When you're the middle of a hurricane," said rookie outfielder Mallex Smith, "you're in the middle of a hurricane."
The rebuilding job is being led by 67-year-old John Hart, who came out of semi-retirement when former general manager Frank Wren was fired, and unproven, first-year GM John Coppolella, who is only 36 years old. So far, their plan for turning things seems to have as many misses as hits.
But Coppolella isn't going anywhere.
The same can't be said for Gonzalez, who appears poised to take the fall for something that is largely beyond his control.
This isn't the Atlanta Braves we once knew.
Not even close.
___
Paul Newberry is a national writer for The Associated Press. Write to him at pnewberry@ap.org or at www.twitter.com/pnewberry1963 . His work can be found at http://bigstory.ap.org/content/paul-newberry .