Busy day before Braves play at Fort Bragg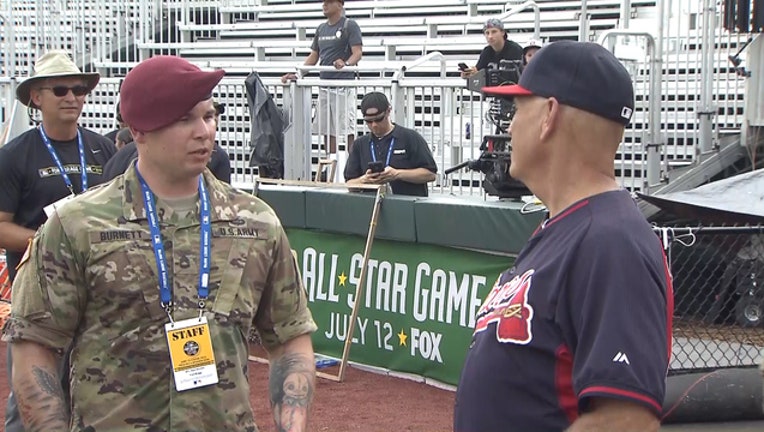 article
FORT BRAGG, N.C. (AP) - It was a busy day for players and Major League Baseball officials long before the Atlanta Braves and Miami Marlins were set to take the field at Fort Bragg on Sunday night for the first regular-season game of a professional sport played on an active military installation.
Now they're just hoping the rain holds off for the game itself.
Commissioner Rob Manfred had promised in March "a unique event" in honor of the military with the Sunday game played at a baseball field that didn't even exist at the time of the announcement. Manfred, players union executive director Tony Clark, and MLB chief baseball officer Joe Torre made a stop Sunday afternoon at the Fisher House — which provides military families with housing close to loved ones during hospitalizations — as part of a series of stops around the sprawling Army post in the sandhills of North Carolina.
Manfred, Torre and Clark visited with family members at Fisher House who had used the facility. When one woman told them she didn't follow baseball all that closely and thought at least one game she attended was quite long, Torre was quick with a quip.
"If you have a complaint," the Hall of Famer said, pointing to Manfred, "here's the commissioner of baseball."
The schedule also included players visiting a parachute packing facility, as well as stops for officials at the Womack Army Medical Center and a dining facility. Manfred and Clark were scheduled to speak with reporters Sunday evening before the game.
Bragg and MLB officials had worked since March to build the stadium on the site of an abandoned former golf course. The $5 million project was financed by MLB and the players' association to create a ballpark with temporary seating holding 12,500.
Workers laid Bermuda grass sod, followed by the field, in May, while the project also included a drainage system that will remove 8 to 10 inches of water per hour — which was set to possibly get a workout with rain forecast into the evening.
___
Follow Aaron Beard on Twitter at http://www.twitter.com/aaronbeardap