Braves Lose 5th Straight to Start Season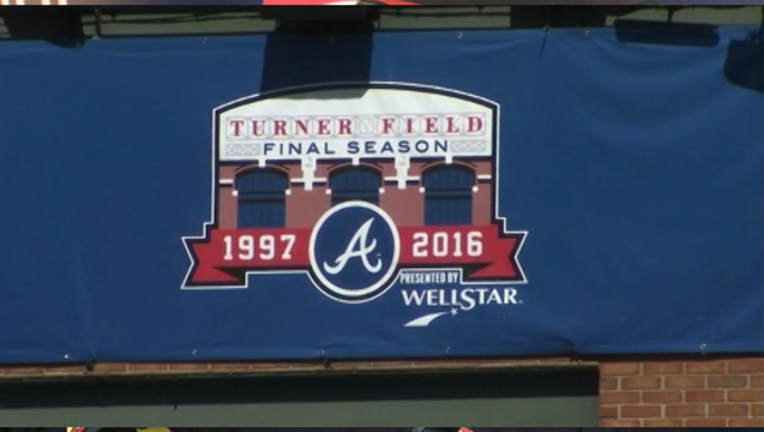 article
ATLANTA (AP) - Adam Wainwright was frustrated by his second straight unimpressive start.
No need to worry. The Cardinals' bats picked up the ace right-hander to cap a high-scoring weekend.
Brandon Moss and Matt Carpenter hit three-run homers and St. Louis beat the Braves 12-7 on Sunday to keep Atlanta as the only NL team without a win.
The Cardinals scored a combined 31 runs in the three-game sweep after being held to only seven runs in three losses at Pittsburgh to open the season.
"We swung the bats well," Carpenter said. "Anytime you score 12 runs, you have to feel good about that."
After rallying for a 7-6 lead in the eighth, the Cardinals put the game away with five runs in the ninth to score 12 runs for the second straight day. Aledmys Diaz hit a two-run double off Jose Ramirez in the ninth before Carpenter's three-run homer.
The Braves (0-5) lost right-hander Dan Winkler, who suffered a fractured right elbow while throwing a pitch in the seventh. He left the mound in obvious pain after throwing behind Randal Grichuk.
Wainwright allowed five runs in five innings and matched his career high with five walks, one of them intentional. He has a 6.55 ERA after two games.
"It's very frustrating, because my body feels good," Wainwright said. "My arm feels great, but I'm not getting the ball in the right position. ... Fact of the matter is, I'm struggling right now. There's no other way to put it."
The Braves' last 0-5 start came in 1988 when they lost their first 10 games.
Moss' homer capped the Cardinals' four-run third inning for a 4-1 lead. Drew Stubbs' three-run homer off Wainwright in the bottom of the frame tied the game.
Trailing 6-5, the Cardinals scored two runs in the eighth against Jim Johnson (0-1). Jeremy Hazelbaker and Stephen Piscotty had run-scoring singles to give the Cardinals the lead.
Trevor Rosenthal gave up one run in the ninth but recorded four outs for his second save.
Nick Markakis had three doubles, including a ground-rule shot in the sixth that gave Atlanta a 6-5 lead.
Winkler struck out Cardinals rookie Jeremy Hazelbaker to end the sixth with the bases loaded. An inning later, Winkley held his right arm to his chest as he left the mound in pain. Walking toward the Braves' dugout, he fell to his knees after crossing the first-base line. He was assisted to the dugout.
Winkler said he "kind of felt something in my elbow" when throwing a slider but "didn't really think much of it" before he was hurt on his next pitch.
"I heard a crack," he said. "I knew exactly what it was right when it happened. It didn't feel good."
St. Louis right-handed reliever Seung Hwan Oh (1-0) had two strikeouts in a scoreless seventh.
Williams Perez gave up four runs in 4 2/3 innings for Atlanta.
GOOD WAY TO LEAVE
The Cardinals are only 27-43 at Turner Field but finished with their first sweep of three or more games at the stadium. Sunday was their last regular-season game at Turner Field. The Braves will move to a new facility in suburban Cobb County next season.
ROSTER MOVES
The Braves placed center fielder Ender Inciarte on the 15-day disabled list with a strained left hamstring and may recall outfielder Mallex Smith from Triple-A Gwinnett on Monday.
Atlanta also optioned right-hander John Gant to Gwinnett, recalled right-hander Chris Withrow and agreed to terms on a minor league deal with utility player Emilio Bonifacio, who was assigned to Gwinnett. Bonifacio was designated for assignment by the Braves on April 2.
Withrow allowed one run while recording one out in the sixth.
TRAINER'S ROOM
Cardinals: Manager Mike Matheny said LHP Marco Gonzales, who began the season on the disabled list at Triple-A Memphis, is facing possible left elbow surgery. Gonzales has consulted two doctors. The type of surgery Gonzales is contemplating has not been disclosed. Gonzales was a first-round pick in 2013.
Braves: Withrow missed all of 2015 while recovering from elbow and back surgeries. He said it a relief to be back in the majors after "overcoming some obstacles ... surgeries and setbacks."
UP NEXT
Cardinals: RHP Michael Wacha will make his second career home-opening start on Monday against Milwaukee. Wacha also started the 2014 home opener. He is 2-0 with a 5.87 ERA in four career games, including three starts, against the Brewers.
Braves: RHP Bud Norris will start in Monday's opener of a four-game series at Washington. Norris (0-1) allowed three runs in seven innings in a 3-1 home loss to the Nationals on Wednesday.