You can check for upcoming mass layoffs near you – here's how
With a growing number of companies including Facebook, Twitter and McDonald's announcing recent layoffs – many employees may be curious if their company is next. 
And, a decades-old labor law, called the WARN Act, could give workers a heads-up about impending layoffs. 
"I have companies calling me up asking about WARN, because they're thinking about laying some people off," Gary Lafayette, an employment and labor attorney with Lafayette & Kumagai, told FOX Television Stations Tuesday. "It's important for them to know what the rules are." 
What is the WARN Act?
Passed by Congress in 1988, the Worker Adjustment and Retraining Notification Act (WARN Act) helps ensure advance notice in cases of qualified plant closings and mass layoffs, according to the U.S. Department of Labor. 
RELATED: Facebook parent Meta to lay off 10K workers
The law requires employers with 100 or more full-time employees to provide a minimum 60-day advance written notice of a worksite closing affecting 50 or more employees, or a mass layoff affecting at least 50 employees and one-third of the worksite's total workforce, or 500 or more employees at a single site of employment during any 90-day period. 
"60 days is not, in today's world, may not be enough time, but it beats nothing at all," Lafayette continued, adding that employees who receive a 60-day notice should start looking for another job.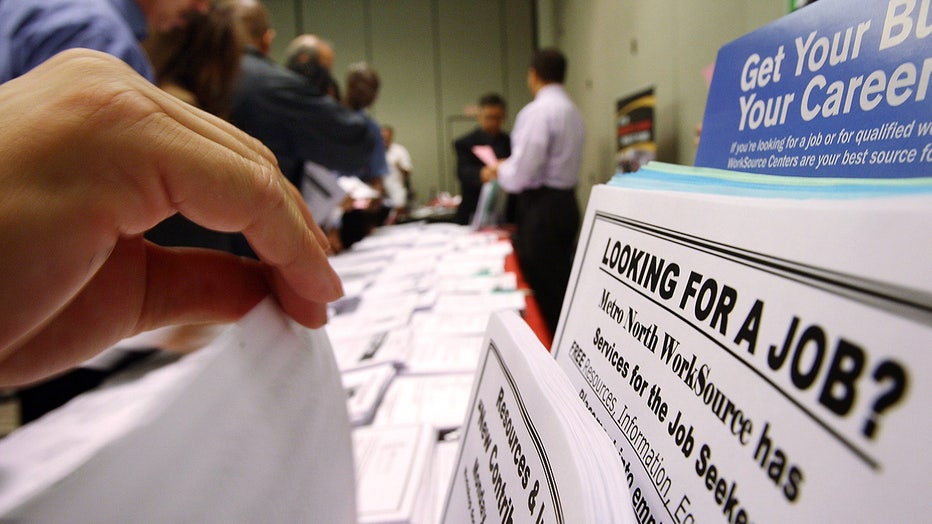 Job seekers look over job opening fliers at the WorkSource exhibit, a collaborative effort by governmental agencies to offer jobs and job training resources at the Greater Los Angeles Career Expo at the Pasadena Convention Center on May 14, 2009 in P
While failure to meet the WARN notice requirements can cause a penalty, Michael Bernick, a former director of the California labor department and employment attorney with Duane Morris LLP, said it will not halt a mass layoff. 
"Both the federal and state WARN notice statutes provide for penalties for employers who fail to file the 60 day notice," he told FOX, adding, "But they do not mean the mass layoff, or business relocation, or business closing cannot procede." 
Check for upcoming layoffs
The WARN Act has garnered a lot of attention on social media recently amid the latest wave of layoffs in the U.S. Some TikTok users have been promoting it as a way to find out about layoffs before they happen. 
These notices are public information, and several states have enacted their own WARN notice websites, where people can read which companies are announcing layoffs. These state-wide acts are, in some instances, stronger, and in other instances, mirror the federal statute. 
In California, for example, companies including Microsoft, Restoration Hardware and Roku submitted notices in March of upcoming layoffs. 
Bernick also explained that free outplacement services are provided by the public workforce system when companies file WARN notices. 
"In California, and nationwide, a publicly funded system of local workforce boards operate, that provide job placement services free of cost," Bernick continued. "When a WARN notice is filed, the local workforce board will reach out to the company, and offer free outplacement services, assisting workers with re-employment. This is a service that companies should be aware of and take advantage of." 
But the WARN Act won't show everything
The WARN Act makes certain exceptions to the requirements when employers can show that layoffs or worksite closings occurred due to faltering companies, unforeseen business circumstances and natural disasters.
RELATED: Tech layoffs, high interest rates are having 'serious impact' on how people buy homes
"Just because you're being laid off doesn't mean someone was required to give you the WARN notice, because there are so many different exceptions," Lafayette continued. 
In addition, small companies are exempt from providing WARN notices, so an employee would likely hear about an upcoming layoff internally. 
"Most layoffs will be below the threshold of 50 or more employees within a thirty-day period. Companies are not required to give the 60 day notice requirements for layoffs involving small numbers of workers — which form the great majority of layoffs," Bernick continued.
And while many workers may appreciate the benefit of a 60-day notice, some workers say they would prefer not knowing early. 
One California woman, who wished to remain anonymous, told FOX she was laid off from a large corporation in January. Due to possible exemptions, her workplace did not disclose a WARN notice of the layoff. 
"Once they lay you off, you really feel dead in the water and people move on really fast," she told FOX. "Even for the three days I was still there, I felt useless, so 60 days of that sounds awful. I'd rather just take the severance and move on." 
Tech layoffs continue
Last month, Facebook parent company Meta said it was slashing another 10,000 jobs and would not fill 5,000 open positions as the social media pioneer cuts costs. Earlier this year, Twitter cut 10% of its workforce, and other companies including eBay, Zoom, Splunk and Workday also announced layoffs. 
RELATED: McDonald's temporarily shuts US offices, prepares layoff notices: report
Lafayette noted that employers who are aware they will need to lay off their staff should give a notice. 
"Once you [the employer] find out that you're going to need to do that, you need to give the notice. That's just a human thing to do is to give the notice," Lafayette said.
Experts also say it's important for employees to continue to monitor their company and pay attention to what is happening if they think a layoff is coming. 
"If you're really worried about it, start looking for something else without waiting for it [the WARN notice] to come," Lafayette added. "Your best protection is you. Your best protection is always going to be you." 
This story was reported from Los Angeles.