United Airlines emergency evacuation slide falls from plane into Chicago neighborhood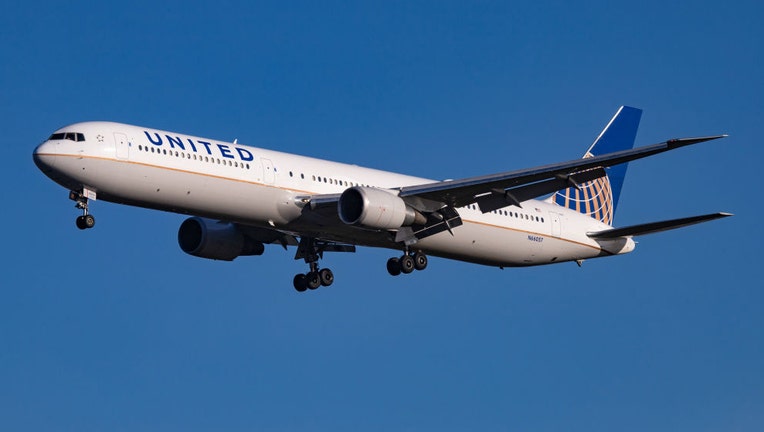 article
An emergency evacuation slide fell from a United Airlines flight and landed in the backyard of a suburban home near Chicago's O'Hare International Airport, the Federal Aviation Administration (FAA) confirmed to Fox News Digital.
The FAA said a United Airlines Boeing 767-300, UAL Flight 12, landed safely Monday at O'Hare after a trip from Zurich, Switzerland, when maintenance workers realized that an emergency slide was missing from the plane's side.
United Airlines told Fox News Digital that the large plane was carrying 155  customers, with 10 crew members.
The 9-hour, 22-minute flight was preparing to land when the emergency evacuation slide dropped into the backyard of Laura and Patrick Devitt's home in suburban Chicago.
The family said they found it in their backyard after it fell on Monday. Patrick told local news station WLS-TV that his son and father-in-law were having lunch in the kitchen when they hear a loud boom at 12:15 p.m.
WATCH: PLANE SKIDS OFF RUNWAY UPON ARRIVAL, SMASHES TO PIECES ON PROTECTIVE BARRIER
When they investigated the noise, they found the deflated slide, which had caused damage to the family's home. The Devitts said that the piece of equipment hit part of the house, damaging the roof, downspout and a window screen.
The Devitts said the emergency slide is larger "than a small car."
MULTIPLE INJURED WHEN ALLEGIANT AIR FLIGHT HITS TURBULENCE: 'LOOKED LIKE THE MATRIX'
"When it's all stretched out – like, it's a little jumbled up, I'm sure, in the picture from when we dragged it out – it's larger than a small car," Devitt told WLS. "It's a very, very big piece of equipment."
The large emergency slide did not injure any residents as it fell from the sky Monday afternoon.
After the Devitts made the unusual discovery, they dragged the silver slide to their front yard and called the Chicago Police Department.
Authorities, along with FAA investigators, responded to the scene on the 4700 block of North Chester Avenue. The FAA said the incident is under investigation.
A United Airlines spokesperson said that the airline immediately contacted the FAA regarding the emergency evacuation slide and are working with the federal administration to "better understand the circumstances around this matter."