Truck driver charged in deadly Georgia pleads guilty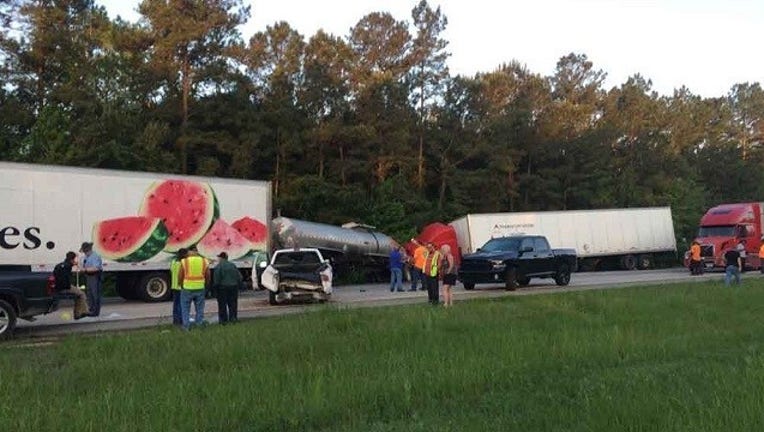 PEMBROKE, Ga. (AP) — A Louisiana truck driver charged in a fiery interstate crash in Georgia that killed five nursing students last year pleaded guilty Thursday to nine counts, including five counts of first-degree vehicular homicide.
A judge sentenced 56-year-old John Wayne Johnson to five years in prison, plus five on probation. He would have faced up to 93 years if convicted at trial.
The sentence was part of a plea deal with prosecutors.
Johnson, of Shreveport, Louisiana, told the judge he was cruising at 70 mph the morning of the crash, with traffic passing him, when he noticed tail lights ahead of him stopping.
"I am getting closer and closer and I am running through my head, 'Why am I not stopping?'"
Superior Court Judge Robert Russell asked Johnson why he didn't stop.
"Sir, that's something I've been wrestling with since that morning."
Judge: "You can't explain it?"
Johnson: "No, sir."
Johnson pleaded guilty before the judge in Bryan County, about 30 miles west of Savannah.
A jury indicted him last month on the charges, including five counts of first-degree vehicular homicide.
Johnson was driving a tractor-trailer toward Savannah in the early morning of April 22, 2015, when his big truck smashed into stop-and-go traffic backed up by an unrelated wreck. The impact crushed two vehicles directly in front of Johnson's truck, killing five student nurses. The women were commuting from Georgia Southern University in Statesboro to their shifts at Savannah hospital.
Johnson's employer, Total Transportation of Mississippi, ultimately agreed to pay $78 million to settle civil suits by the victims' families. Company executives revealed in legal depositions that they hired Johnson even after he disclosed a previous employer had fired him for crashing his truck after falling asleep at the wheel.
In his own deposition in the civil cases, Johnson acknowledged under oath that the deadly Interstate 16 crash was his fault, but insisted he was awake.
In the criminal case, prosecutors made the unusual move of bringing charges against Total Transportation as a corporation. District Attorney Tom Durden agreed to drop his case against the company last week in exchange for Total Transportation spending an additional $200,000 to establish an education fund for student nurses.
The young women who died in the crash were Amber DeLoach of Savannah, Emily Clark of Powder Springs, Caitlyn Baggett of Millen, McKay Pittman of Alpharetta and Morgan Bass of Leesburg.