Three men arrested after car chase with police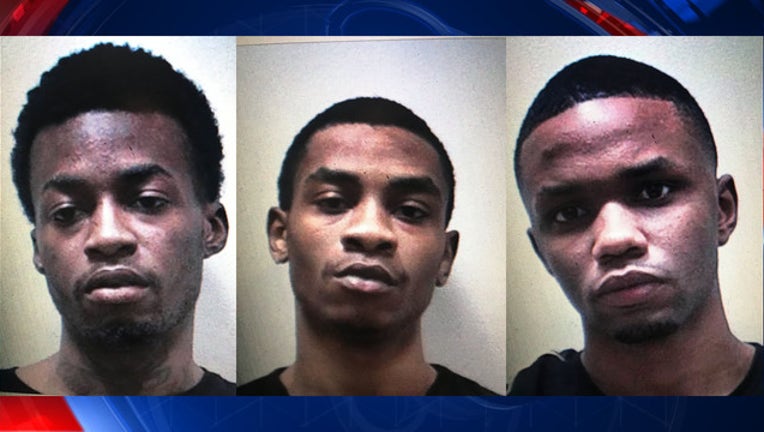 HABERSHAM COUNTY, Ga. - Three men are in a Habersham County Detention Center after officials say they led police on a high-speed chase early Monday morning.
The Habersham County Sheriff's Department said a deputy had attempted to stop a red Ford Mustang that was speeding and failing to stay in its lane around 4:30 Monday morning.
Instead of stopping, the deputy said the driver, 24-year-old Atlanta resident Demon Williams, drove off and got onto Ga. Highway 365.
Police deployed spike strips to stop the vehicle. When the spikes hit the car, it turned onto Georgia Highway 385, where police say they saw one passenger leave the car and people began throwing things out of the car's window.
The deflating tires caused Williams to lose control of the car and it smashed into a telephone pole in Demorest, Georgia. Afterwards, Williams and the other passenger tried to flee on foot.
The three suspects have been arrested and are now in Habersham County Detention Center waiting for bond to be set. None of the men were injured in the wreck.
Officials say when they inspected the wreck they found a handgun, less than an ounce of marijuana, as well as synthetic marijuana.
Williams has been charged with driving while his license was suspended, reckless driving, speeding, felony fleeing and attempt to elude police, possession of less than an ounce of marijuana, possession of a firearm during the commission of a crime, driving with no proof of insurance, driving on the wrong side of the roadway, operating an unsafe vehicle, and failure to maintain lane.
The two passengers, Thaddeus Landry and Omar Landry, have been charged with possession of less than an ounce of marijuana and possession of synthetic marijuana. Thaddeus has also been charged with obstructing an officer.