Rold Gold pretzels recalled for potential peanut allergen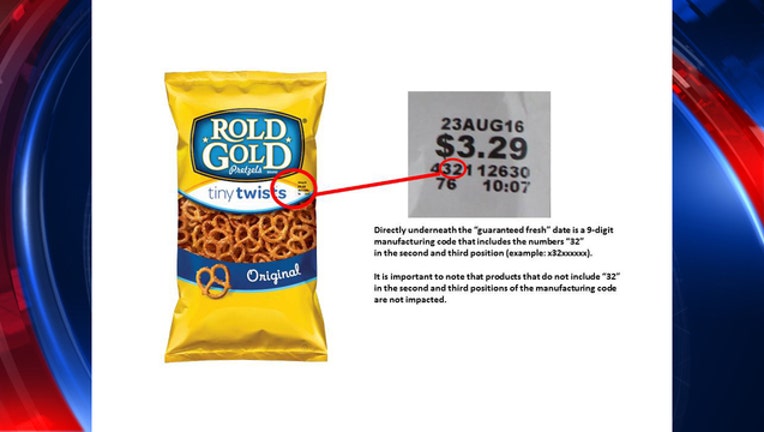 article
(WJBK) - Frito-Lay is voluntarily recalling select Rold Gold pretzels due to a potential undeclared peanut allergen.
This recall is the direct result of a recent recall by a Frito-Lay supplier of certain lots of flour for undeclared peanut residue. This is the same flour recall that also prompted Hostess to recall several of its products.
The affected Rold Gold packages are sold in retail stores and via foodservice and vending customers throughout the United States, and have "guaranteed fresh" dates ranging from June 28, 2016 - August 23, 2016 on the front of the package.  Directly underneath the "guaranteed fresh" date is a 9-digit manufacturing code that includes the numbers "32" in the second and third position (example: x32xxxxxx).
Rold Gold Tiny Twists - 1 oz. , 2 oz., 16 oz. and 20 ½ oz.
Rold Gold Thins - 4 oz. and 16 oz.
Rold Gold Sticks - 16 oz.
Rold Gold Honey Wheat Braided - 10 oz.
You can read more information on the Frito-Lay website.
Consumers with any product noted above can return the product to retailer for a full refund, or contact Frito-Lay Consumer Relations (9 a.m. - 4:30 p.m. CST, Mon.-Fri.) at 1-888-256-3090 or www.pretzelrecall.com.
To date, Frito-Lay says it has received no reports of illnesses related to the products covered by the recall. The company says no other Rold Gold products are impacted.