Police release audio of suspect in Indiana girls' deaths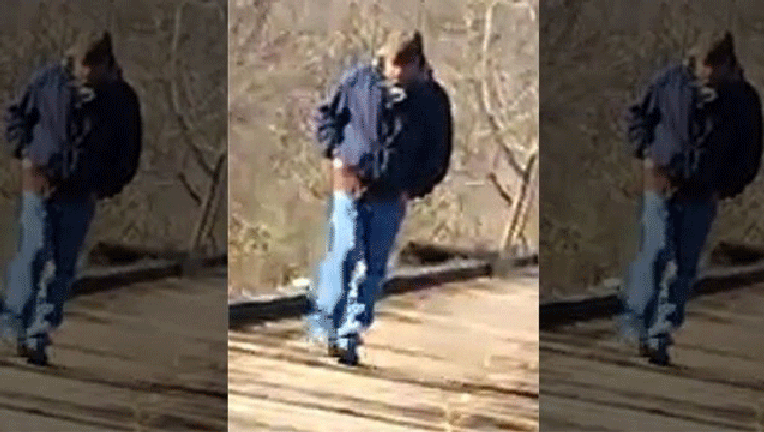 article
DELPHI, Ind. (AP) - One of two teenage girls killed along a northern Indiana hiking trail last week used her cellphone beforehand to capture video of a man police now consider the main suspect and recorded a male voice saying "down the hill," authorities said Wednesday.
Indiana State Police played a clip of the man's voice during a news conference at which officials appealed for more tips from the public and announced that $41,000 in reward money had been raised.
The audio came from 14-year-old Liberty German's cellphone, Capt. David Bursten said. Liberty also captured a grainy image released by police last week of a man walking near the hiking trail outside Delphi about the time she and 13-year-old Abigail Williams disappeared Feb. 13, Bursten said.
The girls' bodies were found the next day in a rugged wooded area off the trail, some 60 miles northwest of Indianapolis.
Bursten said investigators aren't certain the voice was that of the man in the photograph whom investigators are calling the main suspect in the deaths. That man hasn't been identified and no arrests have been made.
Officials declined to release more information about how the girls were killed and what else Liberty might have recorded on her phone.
"She had the presence of mind to have the phone on and to capture video as well as audio," Bursten said.
Greg Massa, assistant special agent in charge of the FBI's Indianapolis Division, said as many as 20 FBI agents have been assisting state and local investigators.
Massa said investigators haven't found any connection between the girls' deaths and any other homicides.
The girls' bodies were found about a quarter-mile from an abandoned railroad bridge that's part of the trail system where the teens had planned to hike during a day off school.
Bursten said while the quality of the audio clip is poor, investigators believed someone could recognize the voice of the person who was with the girls.
"One of two things happened. It was a chance encounter - that's possible. Don't think it's likely, but it's possible," Bursten said. "Or that person knew that they were going to be there. That's possible as well."
__
The police tip line for the case is: 844-459-5786.