National Weather Service confirms EF-1 Tornado in Hall County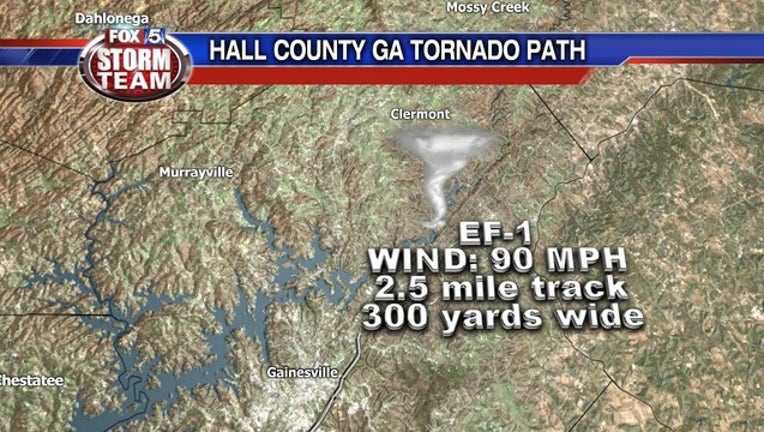 HALL COUNTY, Ga. (FOX 5 Atlanta) - The National Weather Service out of Peachtree City confirms an EF-1 Tornado touched down in Hall County Early Friday morning. 
The tornado had estimated peak winds of 90 mph, two and a half mile long path and was 300 yards wide. 
It has been determined that the tornado touched down at 5:50 a.m. 4.5 miles south of Clermot, Georgia and then picked up three minutes later 4.4 miles southeast of Clermot, Georgia.
The National Weather Service says the damage within the tornado path was snapped and uprooted trees. There was some Structural damage at Dewberry Baptist Church where the steeple was blown over. Pockets of stronger winds approaching 90 mph occurred on either side of Highway 284 along Nopone Road and Glade Farm Road where numerous large trees were uprooted or snapped about half-way down. The tornado appeared to lift along Glade Farm Road near Flat Creek.
-----
Keep up with the latest by downloading the FREE FOX 5 Storm Team app and following @FOX5StormTeam on Twitter.
DOWNLOAD the FREE FOX 5 Storm Team app to keep up with this extreme weather