Midnight Black Lives Mater protest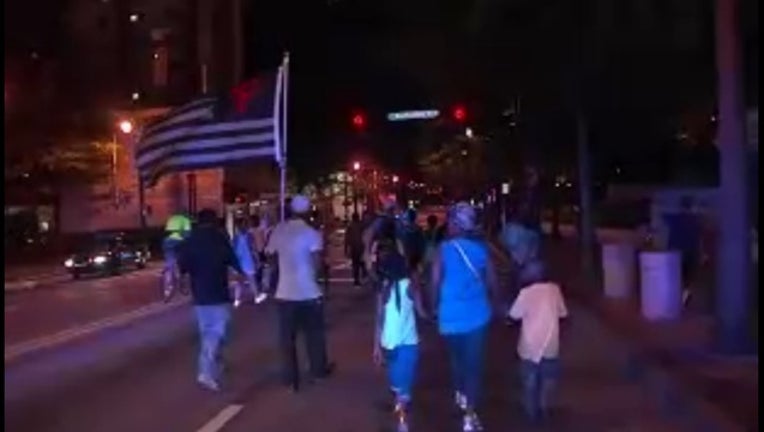 article
ATLANTA - So much for the so-called "cooling off" period.
Early Friday morning, a small group of protesters marched on downtown Atlanta streets blocking traffic. People from various groups upset over police violence met at Underground Atlanta at midnight. The protesters, who numbered between 20 and 30, then marched up Peachtree. They stopped at the Andrew Young International Boulevard intersection and blocked vehicle from moving. Eventually the marcher returned to Underground, where they dispersed at around 2 a.m.
Those taking part in the midnight rally say as far as they're concerned there has been no deal struck to stop the protests until a planned meeting with Atlanta Mayor Kasim Reed. Earlier this week, the Mayor met with representatives from some of the groups as they were holding a sit-in at the Governor's Mansion. He agreed to hold an extended 2-hour meeting with the protesters Monday morning at City Hall. In exchange the Mayor asked for a temporary halt to the protests, which he labeled a cooling off period. But some of the groups marching Friday morning say they weren't in the meeting when the Mayor the deal, and don't feel bound by it. They plan on continuing to protest before, during and after the City Hall meeting.
One of the groups taking part in the meeting with the Mayor is Black Lives Mater-Atlanta. Their organizers say they want to push for a number of items, including the elimination of Operation Whiplash. That's a summer long police program announced by the Mayor last week. It calls for putting 45 extra officers in zones 3 and 4, with the hopes of combating gun related crimes. Despite the fact, that some in those communities are asking for the extra officers, Black Lives Mater-Atlanta are against them. They maintain the beefed up patrols lead to profiling and only add to tension between the police and the public. Black Lives Mater-Atlanta would rather see the money used for Operation Whiplash spend on a summer jobs program, offering more activities at recreation centers and fixing up the local parks.