Suspect killed at Holiday Inn after 2 Orlando police officers shot during traffic stop, police say
LATEST UPDATE: 
Officers found the suspect at the Holiday Inn at Caravan Court at 6 a.m. and evacuated the hotel. The suspect barricaded himself in the room and shot at the SWAT officers multiple times around 6:58 a.m. He was shot by officers multiple times and died.
The shooting suspect was identified as 28-year-old Daton Viel with an extensive criminal history. The second suspect was determined to have not been involved in the downtown shooting.
Both officers survived the shooting and doctors say they're expected to recover from their injuries sustained in the shooting.
Daton Viel
ORLANDO, Fla. - Police said Viel has a lengthy criminal rap sheet involving several trespassing, sexual assault, and burglary charges. Viel's latest arrest was in Orange County on March 27 after he allegedly sexually assaulted a minor. 
Veil also was arrested in 2016, 2018 and 2019 on drug, trespassing, burglary, and vandalism charges. 
ORIGINAL STORY
Two Orlando police officers are at the hospital in critical condition after being shot Friday night during a traffic stop, Orlando Police Chief Eric Smith told reporters early Saturday morning, and a massive manhunt is actively underway to find the suspected shooters.
Police Chief Smith said the officers attempted to stop a vehicle that was connected to a homicide investigation out of Miami when the officers were shot. He said the suspects – believed to be two people – then carjacked another driver and led law enforcement on a pursuit.
"We have two officers here in ORMC (Orlando Regional Medical Center) who are in critical condition. This is a sad day for our department," Chief Smith said.
He said law enforcement was now actively in search of suspects. He did not elaborate on the suspects police were looking for or where those suspects were believed to be. Police also did not elaborate on the homicide investigation out of Miami.
He did, however, address the suspects directly: "We will find you, and you will be brought to justice." 
Police are expected to hold a second news conference at 12:30 p.m. Saturday.
As of Saturday morning, there is a large police presence on Caravan Court in Orlando near the area of Universal Orlando attractions.
Police did not immediately say how that scene is connected to the downtown Orlando shooting.
The community is asked to avoid the area and expect traffic delays. 
There are also active law enforcement presences in downtown Orlando, at Orlando Regional Medical Center, and in Apopka.
Here is what we know:
Downtown Orlando: Officer-involved shooting reported
Police said shortly after 11 p.m. Friday that its officers were involved in a shooting in downtown Orlando, near North Garland Avenue and Washington Street. Chief Smith said officers were conducting a traffic stop connected to a homicide investigation out of Miami when the suspect shot the officers.
Those suspects then carjacked another drive and took off. Police are now looking for those suspects.
Large police presence in Apopka
In Apopka, which is about 20 minutes northwest of Orlando, there is a second large law enforcement presence at the Marden Ridge Apartments, near Marden Road and State Road 414.
Police have not released details on this investigation.
FOX 35 crews reported seeing more than a dozen law enforcement agencies there, including Orlando police, Florida Highway Patrol, Lake County Sheriff's Office, Apopka Police, Winter Park police, Longwood police, Daytona Beach police, Orange County Sheriff's Office, Clermont police, Seminole County Sheriff's Office, Florida Fish and Wildlife Conservation Commission, Winter Spring police, and Winter Garden police.
 FOX 35 reached out to Orlando Police to learn whether the scene was connected to the shooting.
A spokesperson for the Orlando Police Department responded with the following statement: "Our officers are currently fighting for their lives and we have several units and agencies assisting to find the suspects. We will be providing another update later today. We appreciate your patience as we work through this difficult time."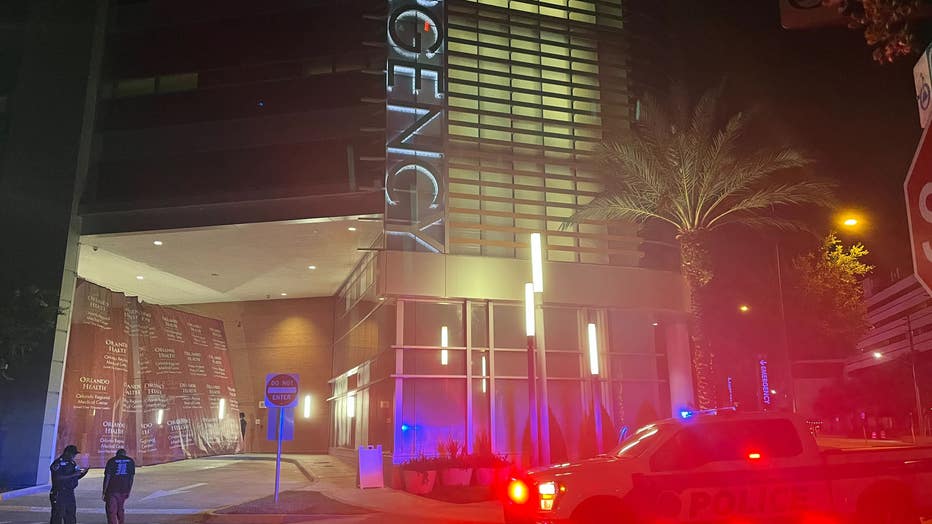 Orlando Regional Medical Center
Police gathering at Orlando Regional Medical Center
Several law enforcement agencies have also gathered at Orlando Regional Medical Center, a major hospital south of downtown Orlando, where two Orlando police officers are in critical condition after being shot.
Police have not released the names of the officers nor the severity of their injuries. Chief Smith thanks all the law enforcement agencies that are assisting Orlando police with its investigation.
The Orange County Sheriff's Office said it was thinking of the injured officers and "doing everything we can to bring these suspects to justice." They asked people to join them in praying for the officers and their recoveries.
The Seminole County Sheriff's Office also shared a statement on social media saying its hearts go out to the Orlando Police Department. "We stand with them in solidarity, praying for the swift recovery of the officers involved."
Stay with FOX 35 News for updates.