'Mama bird frantically circled overhead' as nest burns atop Utah power pole, firefighters say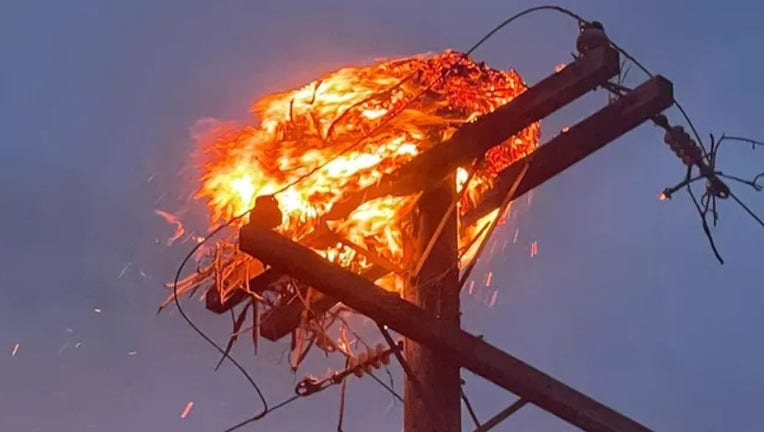 article
MORGAN COUNTY, Utah - An iconic fixture of one Utah community was destroyed by fire this week.
Firefighters in Morgan County said they received a call about 8:15 p.m. Wednesday regarding a power pole fire on the eastbound side of Interstate 84. Crews arrived to find a large osprey nest that was atop the pole on fire.
Firefighters said their efforts to extinguish the blaze were hampered because the electric lines were charged. They said the blaze started when a power line malfunctioned and ignited the nest with osprey chicks inside.
"Unfortunately, it was occupied by an osprey, and there were casualties with the baby chicks," firefighters said in a Facebook post following the incident. "Mama bird frantically circled overhead until the end."
Ospreys – sometimes called fish hawks or sea hawks – are unique birds of prey that primarily eat fish, according to the Utah Division of Wildlife Resources. They are the only hawk in North America that eats a diet that's almost exclusively fish.
"Anyone traveling this area is well aware of the magnificent birds that nested there every year," firefighters said in the Facebook post. "Our drive on I-84 is not going to be the same without seeing the bird's nest anymore, it certainly stood out, and we will miss seeing it."
Locals said they are holding out hope that the large birds return next year to build a new home.
Read more of this story from FOX Weather.