Kevin Costner's estranged wife Christine Baumgartner spotted in court as judge upholds tentative ruling
SANTA BARBARA, Calif. - SANTA BARBARA – Christine Baumgartner, Kevin Costner's estranged wife, appeared in a Santa Barbara courtroom Wednesday as a judge ruled on a tentative child support agreement for the couple.
The "Yellowstone" actor will pay the former purse designer $129,755 per month in child support for their three children. 
Baumgartner initially requested $248,000 monthly in support or "in the alternative, at the guideline rate of $217,300 per month, payable on the first day of each month." Costner was offering $51,940 per month.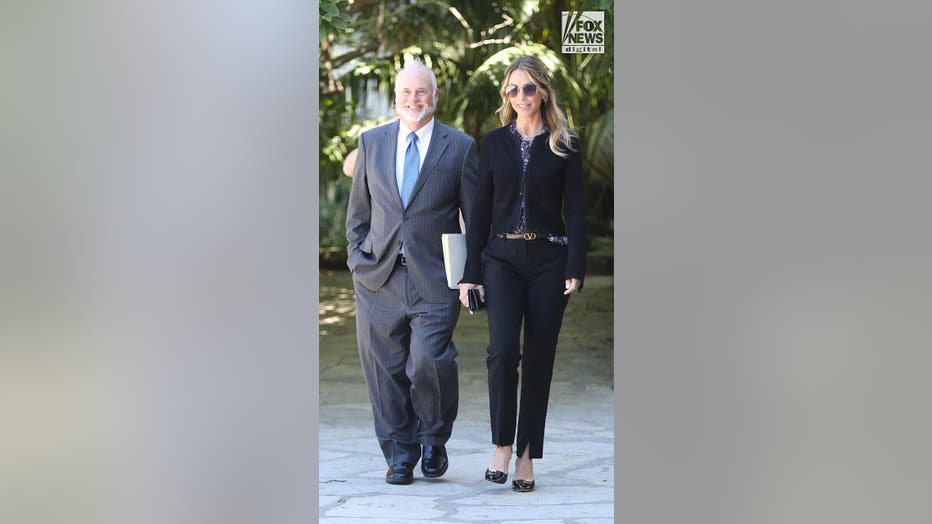 Christine Baumgartner and her lawyer, Mark Rydell leave Superior Court of Santa Barbara, Wednesday, July 12, 2023. Baumgartner is the estranged wife of actor, Kevin Costner and is in court today amid their ongoing divorce process. (Fox News Digital)
Judge Thomas Anderle granted an evidentiary hearing, and pending the hearing, Costner and Baumgartner will each be required to pay 50% of their three children's health care expenses, sports and extracurricular activities.
Baumgartner appeared before the judge wearing a black cardigan with a silky blue blouse and black slacks. Her legal team, including attorney John Rydell and Marisa K. Beuoy, spoke on her behalf. Susan Wiesner dialed in via Zoom.
Costner's representation, which included Laura Wasser and Jacqueline Misho, appeared in court on behalf of the "Tin Cup" actor who is on vacation with his children, per previous court documents.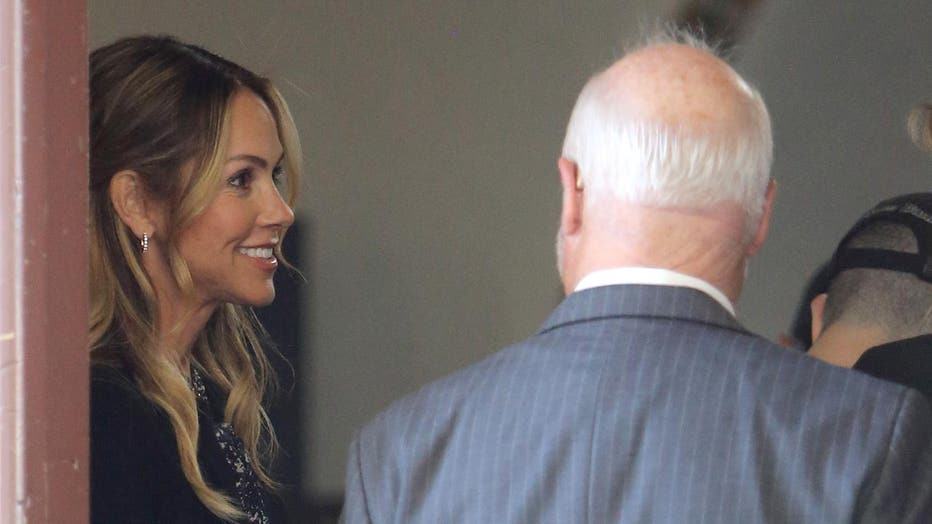 Christine Baumgartner and her lawyer, John Rydell, enter the Superior Court of Santa Barbara, Wednesday, July 12, 2023. (Fox News Digital)
Rydell suggested the court combine already established November trial dates regarding the validity of the pre-marital agreement (PMA) to now also include arguments in the child support ruling.
Misho argued in court that the issue with the PMA and child support arrangements "do not coincide in any way."
KEVIN COSTNER TO PAY $129,000 IN MONTHLY CHILD SUPPORT, JUDGE'S TENTATIVE RULING SAYS
Judge Anderle's case load could not currently allow additional dates added to the already established trial dates on the calendar, though.
"I'll start looking for time as to when I can do it," Judge Anderle said.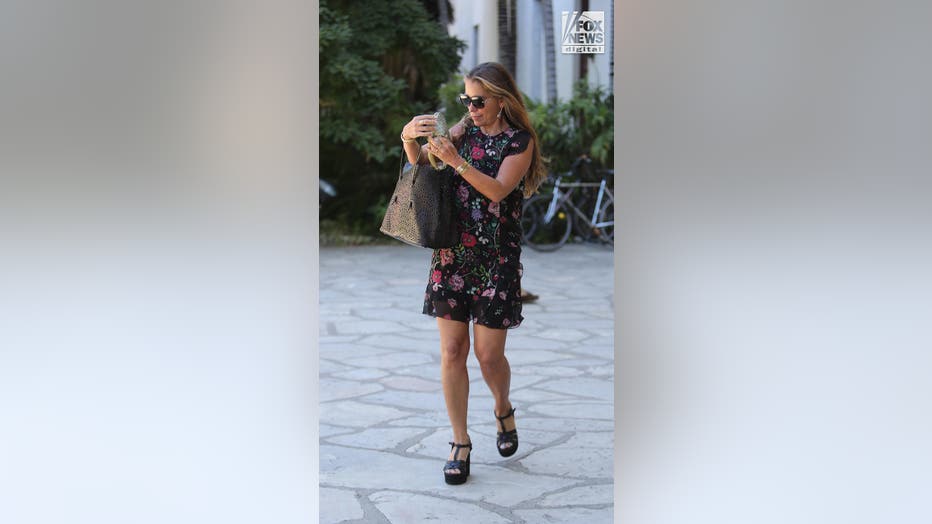 Kevin Costner's lawyer, Laura Wasser leaves the Superior Court of Santa Barbara, Wednesday, July 12, 2023. (Fox News Digital)
He may be able to provide insight into his calendar at the next court hearing on Aug. 2.
As part of the support ruling, Costner will be required to pay $200,000 in attorney's fees and $100,000 in forensic costs.
KEVIN COSTNER'S ESTRANGED WIFE CHRISTINE MUST MOVE OUT OF CALIFORNIA HOME BY END OF MONTH, JUDGE RULES
Payments will be made on the "first of each month" with "credit for sums paid between July 1 and July 12," per court documents.
In documents obtained by Fox News Digital, Baumgartner first filed for divorce from the "Field of Dreams" actor on May 1, citing "irreconcilable differences." The date of separation was listed as April 11, 2023.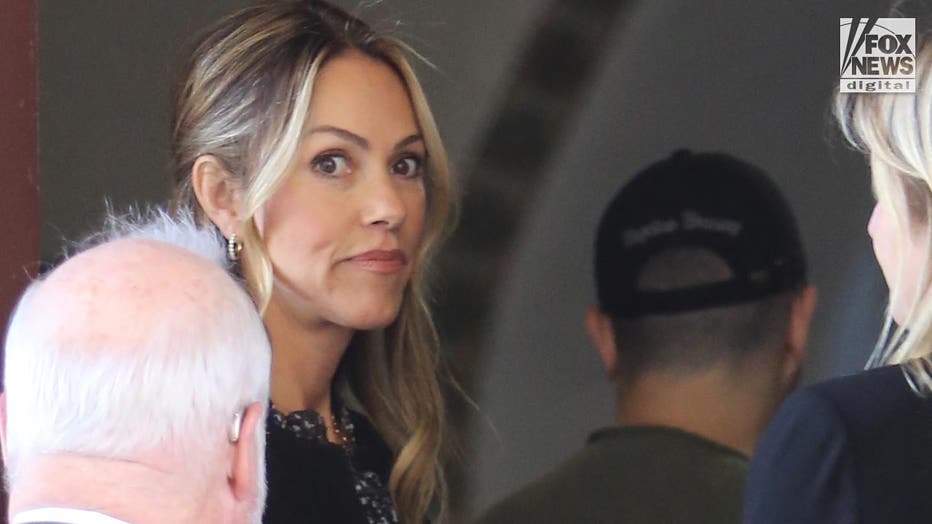 Christine Baumgartner waits inside the Santa Barbara courthouse. (Fox News Digital)
They both filed for joint custody of their three kids: Cayden, 16, Hayes, 14, and Grace, 13.
Costner made his own filing Monday, and requested Baumgartner pay $99,225 in attorney's fees and costs from his lawyers litigating the prenup in May and June, in documents obtained by Fox News Digital.
CLICK HERE TO SIGN UP FOR THE ENTERTAINMENT NEWSLETTER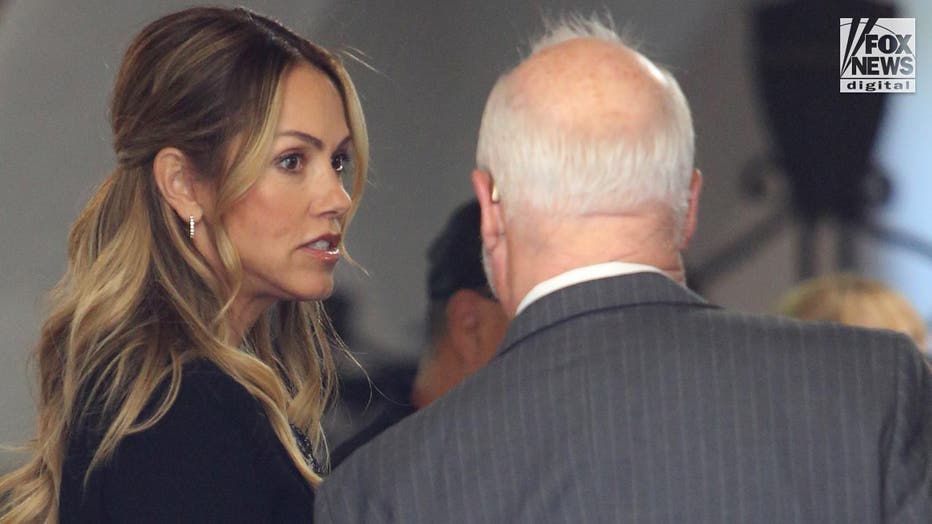 Christine Baumgartner will receive $129,755 in child support from Kevin Costner. (Fox News Digital)
"Respondent incurred attorneys' fees of $29,850 with Misho Law Group for work directly related to enforcement of the provision in the PMA (pre-marital agreement) that requires Petitioner to vacate Respondent's separate property residence," the documents stated. 
"That work included, but was not limited to: phone conferences and emails to and from co-counsel, phone conferences with the client, drafting, review and revision of the request for orders, review of Petitioner's opposition pleadings, review and revision of Respondent's reply pleadings and attendance at the hearing on July 5, 2023."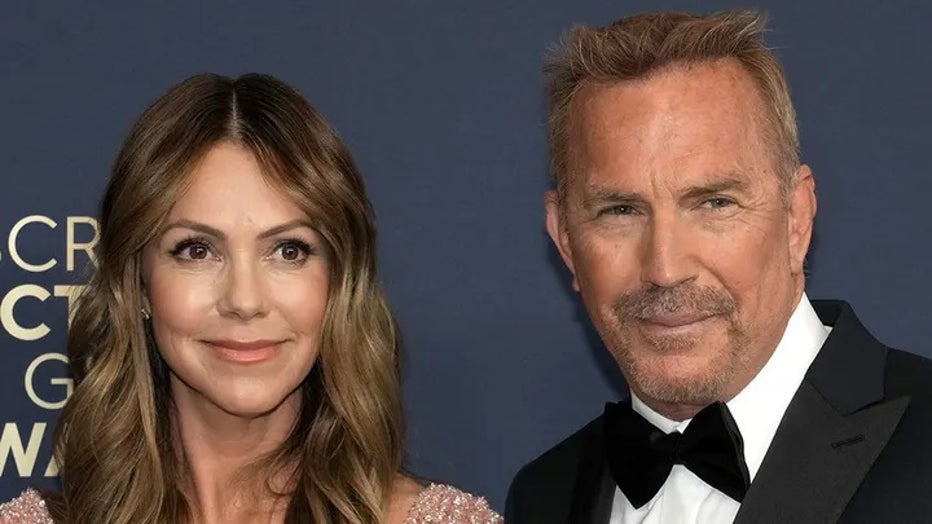 A judge ruled in a custody hearing for Kevin Costner and Christine Baumgartner's ongoing divorce. (Jeff Kravitz)
His main legal counsel, Laura Wasser, of Wasser, Cooperman & Mandles, wrote in the declaration that her practice had not yet "prepared invoices for time billed in July." 
Pages of redacted invoices from Wasser, Cooperman & Mandles were included in the filing, which included a $5,100 "review and revise" of a client declaration, "legal research" for $2,250, and "Review - Airbnb homes in Motecito" for $612.50. 
The total sum of hours and amount billed on the 27-page invoice was also redacted from court records.
A court hearing regarding Costner's new filing was set for Aug. 2. 
The Academy Award-winning actor was previously married to Cindy Silva for 16 years before they split in 1994. Silva was reportedly given an $80 million settlement.