Kennesaw fireworks show off with a bang despite rain
KENNESAW, Ga. - The Fourth of July celebration started early in Kennesaw. The city's annual fireworks display is held on the 3rd of July. The rain moved in during the middle of the party, but it didn't stop the show.
"This is Kennesaw's Salute to America 2023!" said Kennesaw Mayor Derek Easterling as he welcomed people and danced to the band playing on the stage just behind him.
Mayor Easterling says people from all over come to celebrate Kennesaw's Salute to America.
"It's about all of us celebrating our independence, our freedom, the freedom we enjoy as Americans," said Mayor Easterling.
That's what was on Amanda Smith's mind who came to the celebration with friends.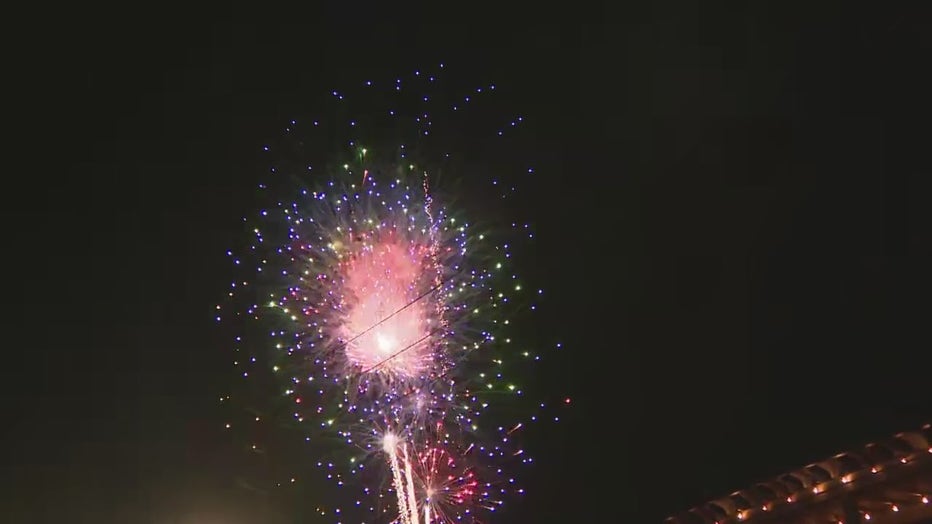 Kennesaws Salute to America 2023 fireworks show
"Especially with how the world is right now. There's a lot of combativeness and turmoil, we all need to know what our forefathers originally inspired for us," said Smith.
There was live music on two stages, food trucks, plenty of vendors, including some selling red, white and blue merch.
"Flashing headbands. We also have these glasses, these are my favorite because they look so cool," said Micah Daniels who was selling the items from the Sweetacular Treats booth.
The rain brought out the umbrellas and sent some people seeking shelter. But soon enough, the rumbling thunder from mother nature was replaced by fireworks. Dazzling, colorful, sparkles of light bursting high above downtown Kennesaw.
"I'm not talking about a pop here and a pop there I'm talking about fireworks baby fireworks!" said Mayor Easterling.
The mayor says this year's fireworks display was the biggest one yet in the city's Salute to America celebrations.
WATCH PART OF THE FIREWORKS SHOW