Injuries reported in head-on train collision in Texas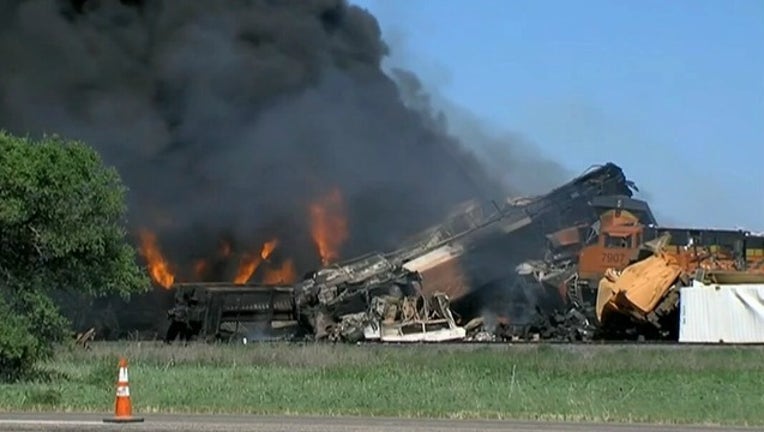 article
AMARILLO, Texas (AP) — A head-on collision involving two freight trains caused several box cars to derail and erupt in flames in the Texas Panhandle on Tuesday, injuring an unknown amount of people and leading authorities to evacuate people who live nearby.
The accident happened near the town of Panhandle, about 25 miles northeast of Amarillo, according to Texas Department of Public Safety Lt. Bryan Witt. He had no cause or other details because emergency responders were still assessing the damage, Witt said.
The collision at about 8:40 a.m. involved two BNSF freight trains, BNSF Railway spokesman Joe Faust said.
Federal Railroad Administration investigators are on site of the head-on collision and are reporting injuries, agency spokesman Matthew Lehner said. There was no information regarding how many injuries or whether there were any fatalities.
Billy Brown, a farmer who lives in the area, said he saw a fireball erupt after the collision. Images provided by KFDA-TV in Amarillo showed thick, black smoke billowing from a jumble of several box cars that were strewn along the tracks.
"I don't know how anyone survived," Brown said. "It's terrible. I've seen a number of train wrecks but I've never seen one like this."
DPS Sgt. Dan Buesing said it's not unusual to have an accident in the Panhandle involving a truck that's struck by a freight train, but the magnitude of Tuesday's accident was startling.
Officials in Panhandle ordered an evacuation of some nearby areas out of concern the flames would cause a fast-moving grass fire, the Amarillo Globe-News reported. Officials also asked residents to curtail water use because the water supply is being depleted by firefighters at the scene, according to KVII-TV in Amarillo.
___
Associated Press writers Betsy Blaney in Lubbock, Texas, and Joan Lowy in Washington, D.C., contributed to this report.