Hurricane, drought, officer deaths among state's top stories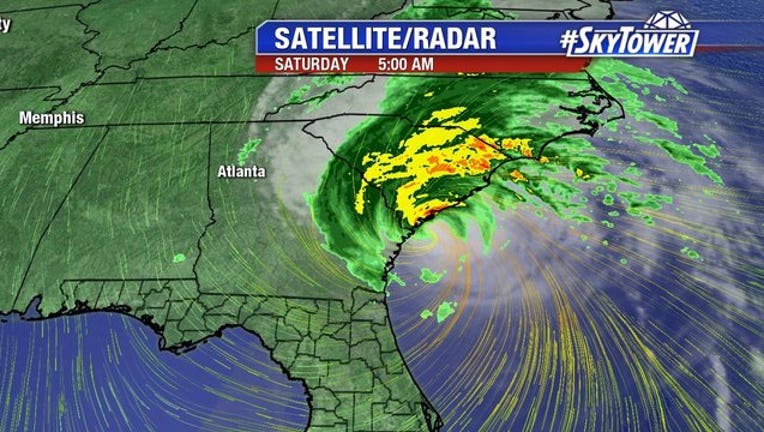 article
ATLANTA (AP) -- History-making weather powered some of Georgia's top stories in 2016.
Millions of Georgians coped with a devastating drought that sparked wildfires in the north Georgia mountains. Along the state's 100 miles of coastline, 500,000 residents were ordered to flee as Hurricane Matthew churned toward Georgia, killing three people in its path.
Georgians also mourned the deaths of nine law enforcement officers killed in the line of duty in 2016, prompting fellow officers to fill churches and gyms across the state to mourn the fallen heroes.
At the state Capitol, key decisions were made on a variety of issues: Guns on campus; religious freedom and low-performing schools.
As a new year dawns, The Associated Press is looking back at 10 of the biggest stories of 2016.
HOT CAR DEATH: Jurors in November found a Georgia man guilty of murder after his toddler son died in the back of a hot SUV. A judge this month sentenced Justin Ross Harris, 36, to serve life in prison without the possibility of parole plus an additional 32 years. Jurors convicted Harris of malice murder, meaning they believed he intentionally left 22-month-old Cooper in the SUV to die on a day in June 2014 when temperatures in the Atlanta area climbed into the high 80s. Prosecutors said at trial that Harris intentionally killed his son to escape the responsibilities of family life. Defense attorneys said Harris was a loving father and that the boy's death was an accident. They plan to appeal.
GEORGIA DROUGHT: Abnormally dry conditions began showing up in March in Georgia and several other southern states, and intensified through the fall. The drought sparked two large wildfires in north Georgia -- one in the Cohutta Wilderness Area and another in Rabun County, which later spread into North Carolina. Both of those fires have been contained, but Georgia's drought persisted for the remainder of the year. All indications are that it will continue into the first part of the 2017.
HURRICANE MATTHEW: An interstate highway became a one-way escape route out of the Savannah area in October, as roughly 500,000 people were ordered to flee the Georgia coast ahead of dangerous Hurricane Matthew. Matthew marked the first time a hurricane evacuation was ordered for coastal Georgia since 1999, when the Savannah area had a near-miss with Hurricane Floyd. Though it didn't live up to the most dire predictions, Matthew still left plenty of damage and was blamed for the deaths of three people in Georgia.
LAW ENFORCEMENT OFFICERS KILLED: Nine law enforcement officers were killed in the line of duty in Georgia during the past year, including seven who were shot to death. Killed by gunshots were Americus police Officer Nicholas Smarr; Georgia Southwestern State University police Officer Jody Smith; U.S. Deputy Marshal Patrick Carothers; Peach County sheriff's deputies Daryl Smallwood and Patrick Michael Sondron; Eastman Police Officer Tim Smith; and Riverdale Police Major Greg Barney. Two other officers were killed in car crashes while on duty: Newton County Deputy Justin White; and Bibb County sheriff's investigator Anthony "T.J." Freeman.
GEORGIA EXECUTIONS: Georgia put to death nine inmates in 2016, more than any other state. Georgia accounted for nearly half of the 20 executions nationwide. It was the most inmates the state has put to death in a calendar year since the U.S. Supreme Court allowed executions to resume 40 years ago. It was almost twice as many as the state's previous record of five, set in 1987 and matched last year. One of the main reasons for this year's spike was that executions in the state had been temporarily halted several times in recent years, essentially creating a backlog of death row inmates who had exhausted their appeals and thus were eligible for execution.
GUNS ON CAMPUS: Gov. Nathan Deal on May 3 vetoed legislation that would have allowed concealed handguns on college campuses in Georgia.
LOW-PERFORMING SCHOOLS: Georgia voters on Nov. 8 rejected a constitutional amendment to allow the state to take over consistently low-performing schools. The proposal topped Gov. Nathan Deal's legislative agenda in 2016.
MARTIN LUTHER KING JR. HEIRS-LEGAL BATTLE: A judge in August signed an order ending an ownership dispute over the Rev. Martin Luther King Jr.'s traveling Bible and Nobel Peace Prize medal that had essentially pitted the slain civil rights leader's two sons against their sister. The consent order said the items were to be released to Martin Luther King III as chairman of the board of his father's estate, but did not indicate what would happen to them after that, and the agreement was confidential.
TRUMP PICKS PRICE: U.S. Rep. Tom Price, a Republican from the Atlanta suburbs, in late November was named President-elect Donald Trump's nominee to lead the Department of Health and Human Services. Price has been a top critic of President Barack Obama's sweeping health care law and backs its repeal.
TWIN PANDAS: A giant panda at Atlanta's zoo gave birth to her second set of twin cubs on Sept. 3. Zoo Atlanta held an online vote to choose names for the fuzzy newborns from seven sets of names. Their names, Ya Lun and Xi Lun, were revealed earlier this month at a naming celebration on their 100th day of life, in accordance with Chinese tradition. The pair along with mother Lun Lun's earlier twins born in July 2013, are the only surviving giant panda twins born in the U.S.