Hot mics and neckties: Shareable OJ Simpson parole moments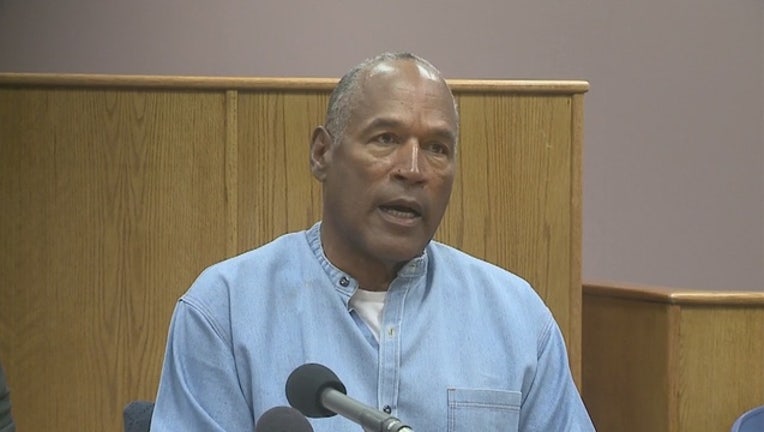 article
The world watched live as O.J. Simpson convinced a Nevada parole board he should be released after spending nine years in prison for a Las Vegas hotel heist.
Here are some unusual moments from the hearing Thursday that led to some head-scratching, some chuckling and lots of social media posts.
___
CONFLICT-FREE LIFE
"I had basically spent a conflict-free life," Simpson said, igniting a social media firestorm. Many pointed to his 1995 murder trial in Los Angeles, though he was acquitted, and a raft of allegations that he abused his wife. His choice of words when calling himself a "pretty straight shooter," also prompted a flurry of tweets that included head-slapping gifs.
___
A HOT MIC MOMENT
Off-topic comments between Simpson and his lawyer were caught on a hot mic as the parole board returned to tell him their decision. Among the things discussed were cookies, ice cream, President Donald Trump and former Associated Press Special Correspondent Linda Deutsch, who covered Simpson's double murder trial.
"My best to my favorite lady, you know who I'm speaking of," he said. "Tell her I wanted to call her but I don't call anybody from here other than my family."
___
WEBCAST OR BLOG
Simpson's lawyer read aloud a letter Simpson wrote to a state lawmaker who was his former attorney, largely focusing on the benefit of education behind bars. But there was a passage referencing a computer course he took.
"Who knows, you may even see a webcast or a blog in the future," Simpson wrote.
While it was being read, Simpson shook his head and mouthed the word, "No."
___
A VICTIM AND A FRIEND
The sports memorabilia dealer at the heart of the robbery case against Simpson testified on his behalf, saying the two had been friends for decades. Bruce Fromong said Simpson was misled about what he was retrieving and never "held a gun on me." He said Simpson, who was dubbed "The Juice," is a good man and made a mistake.
Turning to Simpson, Fromong said that if the former sports star was released, "Juice, I'll be here tomorrow for you."
___
MOMENTS OF LEVITY
There were several moments when the room broke out in laughter, the first of which came from Simpson when Connie Bisbee, chairwoman of the Nevada Board of Parole Commissioners, told him that he was getting the same hearing as anyone else would.
Another came when Bisbee said Simpson was 90, two decades older than his 70 years. More chuckling emerged when Simpson said he planned to move to Florida.
"I could easily stay in Nevada, but I don't think you guys want me here," he said.
___
SPORTING A FOOTBALL-THEMED TIE
Social media took note of parole board member Adam Endel's choice in neckwear: a Kansas City Chiefs tie. The team's Twitter account responded to a Sports Illustrated tweet about the fan fashion with an emoji-filled post, essentially saying his tie game was on point.
Asked about the tie, board spokesman David Smith said Endel wore it "probably because he's a Kansas City Chiefs fan." Endel has some roots in the state with a degree from Central Missouri State University.
Simpson played for nine seasons for the Buffalo Bills and is 1968's Heisman Trophy winner, an award for best college player that was represented on another article of clothing in the hearing room - Fromong's black polo.
___
Follow Alina Hartounian on Twitter @ahartoun.