Grand Prairie couple hit 4-year-old, hung her in closet, arrest warrant reveals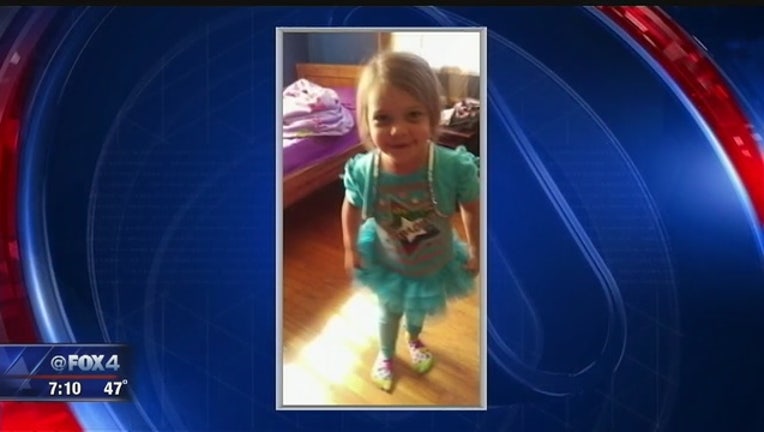 article
An arrest warrant released Tuesday revealed new disturbing details into what caused the death of a 4-year-old Grand Prairie girl.
Jeri Quezada, 30, admitted to officers she and her boyfriend hit daughter Leiliana for drinking her 18-month-old son's juice and hung her in a closet, the arrest warrant stated. Quezada was arrested on Monday and faces an injury to a child charge.
Authorities responded to a home on the 2200 block of SE 14th St. on March 13 where they found Leiliana in the hallway not breathing and with severe bruising on her face, according to the warrant.
Quezada, who made the original 911 call, told medics Leiliana had fallen in the shower. When officers arrived, they found Quezada yelling "oh my God," while her boyfriend sat quietly inside, the warrant states.
Quezada originally told officers Leiliana came home with bruises on her face after staying with a friend for several days, according to the warrant. She said Leiliana then went to take a shower on her own, where they later heard her fall and found her unresponsive.
After she was taken in for questioning, the warrant states Quezada changed her story several times. She ultimately admitted to officers she went to her boyfriend's home with Leiliana and her son on March 12 to see her boyfriend. Quezada told officers both she and her boyfriend began to hit Leiliana with a belt and a bamboo stick for drinking the 18-month-old's juice.
Quezada stated they went to the bathroom to shoot heroin while the children stayed in the living room. Quezada told officers she left Leiliana with her boyfriend, because she knew she couldn't take her out in public due to the bruising on her face.
Quezada reported she went to run errands with her son and went back to her home to take a nap, according to the warrant. She said her boyfriend called her and said he tied up Leiliana since she was making herself throw up.
After going to dinner, Quezada told officers she went to her boyfriend's home to pick up Leiliana where they shot up more heroin. The warrant stated Quezada then went to the closet where she saw Leiliana tied with her wrists behind her back and hanging on the coat rod which prevented her from sitting down.
After being let out of the closet, Quezada said she gave Leiliana food after she said she was hungry. After having trouble swallowing, Quezada said she slapped Leiliana on her chest and hit her in the back of her head while telling her to swallow her food. Quezada said the boyfriend forcibly poured Pedialyte down Leiliana's mouth.
Leiliana then ran to bathroom saying she was going to throw up but only made it to the kitchen before she vomited, according to the warrant. Quezada said her boyfriend then grabbed Leiliana by the throat and lifted her off the ground with one hand. He then shoved Leiliana against the wall and cursed at her for throwing up, said Quezada. He then threw her back in the closet.
Quezada said once Leiliana was let out of the closet, the 4-year-old went to take a shower on her own. While Leiliana was showering, Quezada said she went to her room to change into her pajamas when she heard her boyfriend in the bathroom yelling "get you some of this," before hearing her fall.
The autopsy found the Leiliana had extensive bruising from head to toe and had whip marks on her back and severe bruising on her buttocks and back of her thighs.
The Tarrant County Medical Examiner ruled the child's death a homicide as a result of blunt force trauma to the abdomen and head.
Quezada has been charged with injury to a child and is being held on a $500,000 bond.
Police are still actively investigating the case and said more charges could be pending.