Florida man convicted of double murder slams elbow into attorney's head: 'I've taken a lot better shots'
FORT MYERS, Fla. - A Florida man convicted in a double murder case elbowed his attorney in the head during a court appearance on Monday. 
The interaction was caught on camera by WINK News in a Lee County courtroom. Joseph Zieler, who was convicted in the murders of 11-year-old Robin Cornell and family friend Lisa, was set to address the court before his sentencing, according to WINK. 
The video shows Zieler calling over his attorney, Kevin Shirley, to speak with him in the courtroom. Shirley is seen walking over and leaning forward to listen to Zieler. 
READ: No murder charge for Susan Lorincz in shooting death of Florida neighbor through door, state attorney says
That's when the defendant slammed his elbow into the attorney's head. 
Two baliff's inside the courtroom were then seen tackling Zieler to the ground instantly as his attorney walked back to his seat.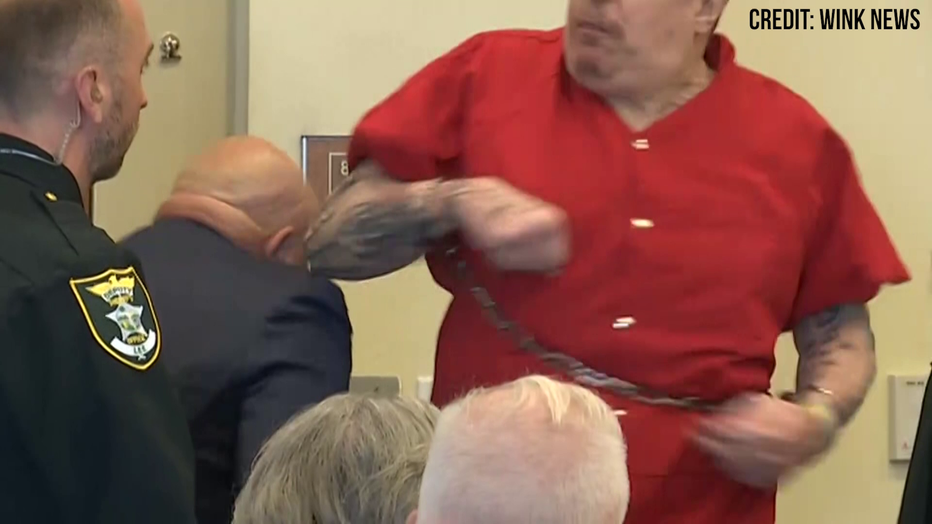 The judge then asked Shirley if he was okay, and he responded yes, saying "I used to box, I've taken a lot better shots than that."
Back in May, the jury that convicted the killer recommended the death penalty for Zieler in the double murder case, according to WINK. 
MORE: Car theft ring bust leads to 23 arrested, $1.1 million returned to victims: FDLE
Florida's new death penalty law has been the focus of Zieler's defense team with them filing a motion for a new trial weeks before, the local news station said. One of the attorney's argued that the judge was wrong to apply the new law to a 33-year-old case that dates back to 1990, WINK reported.
Prosecutors in the case urged the panel at the time to think about the suffering both victims endured, according to WINK. The station reported that both victims were beaten, sexually assaulted, and were suffocated to death. 
A judge in Lee County will make the final ruling on Zieler's punishment, and he does not have to follow the jury's recommendation for the death penalty.
Read more at WINKNews.com.