Georgia DAs file lawsuit to strike down newly-created prosecutorial oversight commission
DEKALB COUNTY, Ga. - Four Georgia district attorneys are asking a judge to strike down a law creating a commission to discipline and remove state prosecutors, arguing it violates the U.S. and state constitutions.
"This law is not just an assault on prosecutors.  It is an assault on our democracy," said DeKalb County District Attorney Sherry Boston.
The attack on Georgia's Prosecuting Attorneys Qualifications Commission, filed Wednesday in Fulton County Superior Court in Atlanta, comes after Republicans pushed through a law creating the panel earlier this year. Republican Gov. Brian Kemp pledged when he signed the law that it would curb "far-left prosecutors" who are "making our communities less safe."
"Under this law,  a commission of just eight could silence an entire community of voices," said Boston.
Boston, the district attorney in the overwhelmingly Democratic Atlanta suburb and the lead plaintiff challenging the law, called the issue "bigger than Georgia."
"We are talking about prosecutorial discretion and prosecutorial independence, both of which have been solidly under assault the last few years," Boston told The Associated Press.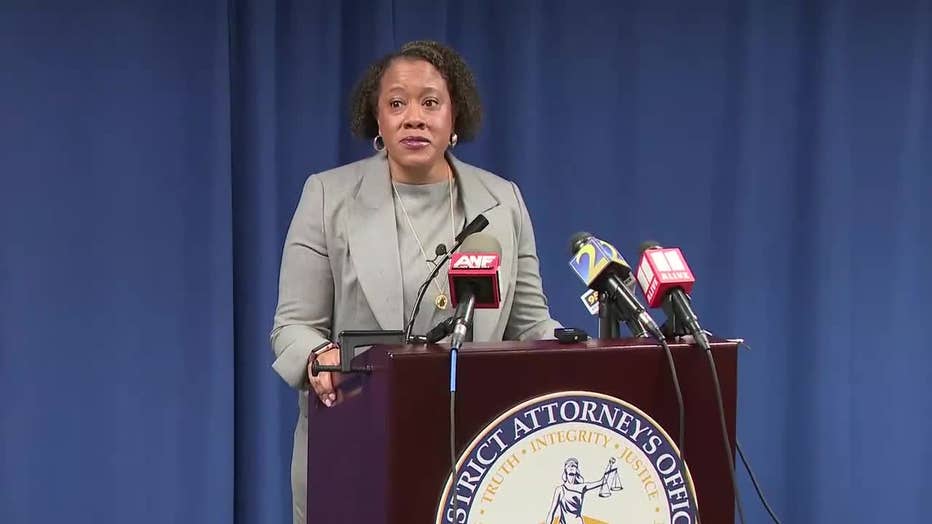 DeKalb County District Attorney Sherry Boston (FOX 5)
Republicans nationwide are pushing back on a sea change in prosecution, after some progressive prosecutors have declined to prosecute crimes including marijuana possession and have sought to lessen long prison sentences. Kemp and other Georgia GOP candidates, like those nationwide, ran anti-crime campaigns in 2022, accusing Democrats of coddling criminals.
Carissa Hessick, a University of North Carolina law professor who directs the Prosecutors and Politics Project, said that especially where crime has risen, it's been "incredibly convenient" for Republicans to oppose progressive prosecutors. Other efforts to rein in prosecutors have taken place in Tennessee, Missouri, Indiana, Pennsylvania and Florida.
"As the progressive prosecution movement gained national prominence, I think it was an easy target for folks on the right, especially once there was an uptick in certain crimes in certain cities," Hessick said.
The Georgia law raises fundamental questions about prosecutorial discretion — a bedrock of the American judicial system that says a prosecutor gets to decide what cases to try or reject, what charges to bring, and how heavy of a sentence to seek.
Besides Boston, district attorneys challenging Georgia's law include Flynn Broady of suburban Cobb County, Jared Williams, whose circuit covers Augusta and neighboring Burke County, and Jonathan Adams, whose circuit covers Butts, Lamar and Monroe counties south of Atlanta. Adams is a Republican, the others are Democrats.
"I may disagree with the DA's decisions in other communities. I believe it is their right to make those decisions and represent their community," Adams said.
They say the law oversteps by requiring district attorneys to review every single case on its individual merits, and by barring district attorneys from making policies rejecting the prosecution of any whole category of crimes.
"We don't back down from bad criminals who hurt people.  And we won't back down from bad law and harmful policy," said Williams.
Their lawsuit contends that the duty to review every case violates the separation of powers in the Georgia Constitution, which places district attorneys in the state's judicial branch. The lawsuit says considering every case will force prosecutors to waste time examining low-level offenses, draining limited resources from more serious prosecutions.
"This duty is practically unworkable, limiting district attorneys' ability to define enforcement priorities and approaches and distracting from the prosecution of meritorious cases," the lawsuit states.
WATCH FULL PRESS CONFERENCE
The suit also says the ban on establishing "stated policies" against prosecuting some cases will force district attorneys to consider prosecuting crimes such as adultery, sodomy and fornication, which most prosecutors refuse to even consider trying. It could also require prosecutors to consider prosecution for possession of small amounts of marijuana, even though the Georgia Bureau of Investigation refuses to test for amounts of marijuana less than an ounce.
READ THE LAWSUIT BELOW
Georgia Attorney General Christopher M. Carr sent the following response:
"I have great respect for the important role District Attorneys play in protecting Georgia's citizens.
"Unfortunately, some District Attorneys have embraced the progressive movement across the nation of refusing to enforce the law. That is a dereliction of duty, and as a result, Georgia's communities suffer. 
"All Georgians deserve to be safe, and all crime victims deserve justice. Like everyone else, District Attorneys who choose to violate their oaths of office are not immune from accountability, and we will vigorously defend this law in court." 
The Associated Press contributed to this report