Arizona couple marries at White Castle years after bride, once a homeless teen, was helped by fast food worker
SCOTTSDALE, Ariz. - A pair of newlyweds tied the knot at a White Castle location in Arizona not only because they both love the regional restaurant chain, but because they also wanted to recognize how the burger spot changed the bride's life for the better.
Jamie West, 41, and Drew Schmitt, 58, of Arizona, married on Cinco de Mayo at a White Castle location in Scottsdale, where the pair welcomed 150 guests to a one-of-a-kind royal wedding with sliders, onion rings and other fast food fare.
The couple's wedding theme was a "king and queen storming the castle" affair, complete with royal blue and gold-adorned costumes.
West, who was born and raised in Phoenix, Arizona, told Fox News Digital she found comfort and survival in White Castle during her early teen years as a homeless runaway.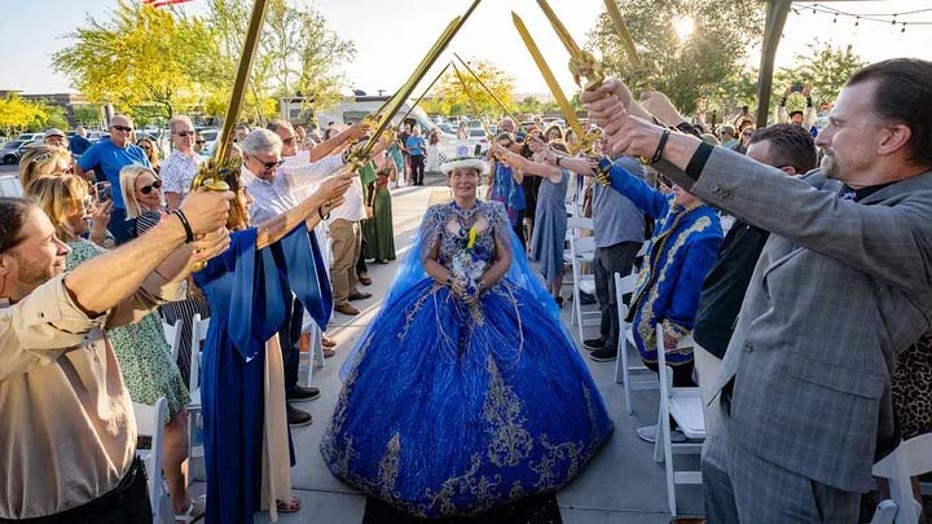 Jamie West, 41, walks down the aisle wearing a blue and gold bridal gown with a matching cape and crown during and crown during her White Castle wedding in Scottsdale, Arizona, on May 5, 2023. (Laura Segall Photography)
"I was in the foster care system at four years old," said West. "Between the age of four and 13, I was in 94 foster homes, six shelters and eight group homes."
She continued, "By the time I was 13, I decided that I could do it better myself and I had better survival chances, so I took off on my own, and then I just started traveling the country."
West recalled traveling from Arizona to California and hitchhiking her way east, where she'd take on odd jobs and pull together resources with the groups of homeless kids she'd encountered. 
Eventually, West discovered White Castle, though today she can't recall which state she was in when she visited her first location since she'd "ping pong back and forth across the country," but she suspects it was somewhere in the southeastern U.S. 
"I walked into White Castle and a lady looked at me and said, 'Oh, sugar, get in here, go in the bathroom, clean yourself up,'" West recalled. "When I came out, she had a couple sacks for me. I mean, they really cleaned the whole grill. She said that they do it every hour, and that they were just going to throw it away anyway, so I should pay it no mind and I should just take all of them."
"I was able to feed a lot of kids for a few days after that," said West. "Whenever I found a White Castle after that first one I went into, I would run there."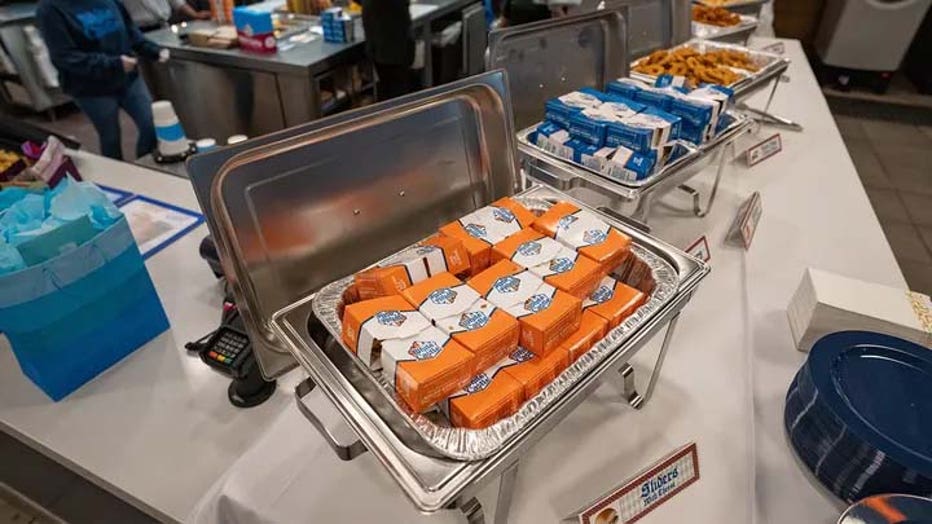 Jamie West and Drew Schmitt chose the White Castle location in Scottsdale, Arizona, for their wedding. The fast food chain catered the event. (Laura Segall Photography)
Schmitt, who's from Columbus, Ohio, the same city where White Castle is headquartered, also grew up with an affinity for the regional fast food chain.
Going to White Castle after sporting events became a post-game ritual for Schmitt, his family and friends, and during his last year of high school, he stopped by White Castle for a prom dinner. 
Later in life, West and Schmitt crossed paths in Arizona at a football fan club and formed a friendship.
West and Schmitt told Fox News Digital that they "hit it off really well" because they "have so much in common" and a similar altruistic energy, but they only began dating about two or three years after their first meeting, which coincided with the end of their previous relationships.
In 2019, a little over a decade into the pair's relationship, West and Schmitt got to show their shared love of White Castle when they camped out in the parking lot of Arizona's first-ever White Castle location for 96 hours and secured their spots as the Scottsdale location's first set of customers.
"[White Castle was] instrumental in feeding not only me, but a lot of other homeless kids across the country," said West. "This was our way of saying thank you."
The move earned West and Schmitt a place in the White Castle Cravers Hall of Fame, an annual honorary ceremony the chain puts together to recognize superfans.
West and Schmitt were invited to cut the ribbon during the Scottsdale location's grand opening in October 2019. 
They also donned blue Renaissance costumes in May 2021 when they attended the grand opening of the world's largest White Castle location in Orlando, where they served as brand ambassadors and greeted customers.
The pair told Fox News Digital that they've also taken part in White Castle's annual Valentine's Day event before they officially married in 2023.
Schmitt even proposed to West when they were inducted into the Cravers Hall of Fame on Feb. 26, 2020, which had 600 restaurant managers in attendance.
"That was the same weekend COVID hit, so we had to put the wedding on hold," Schmitt said. "But, we really got to know the managers, the management style and the overall corporation, and we just fell more in love with the company more."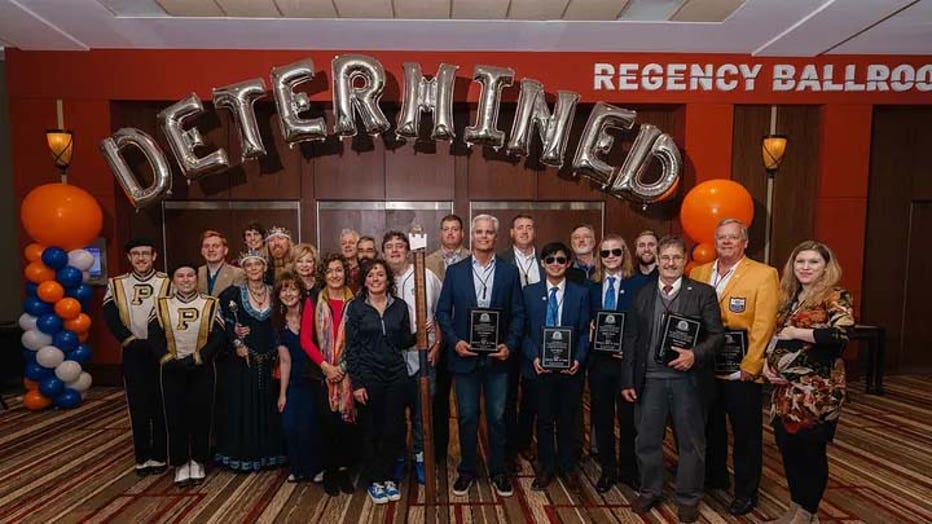 Jamie West and Drew Schmitt (far left, donning crowns) were inducted in the 2019 White Castle Cravers Hall of Fame on Feb. 26, 2020, in a special ceremony in Columbus, Ohio. They were joined by 11 other inductees and beat out more than 250 superfan a (White Castle)
West and Schmitt planned their White Castle wedding in two-and-a-half months and worked with a regional manager to make their castle-storming vision come to life.
The pair took inspiration from the burger chain's logo and wore blue and gold wedding attire, including a detailed ball gown, a custom suit of armor and matching crowns.
"They closed down the entire front restaurant part, and they only had the drive-thru operational," said West. 
For their ceremony, West and Schmitt had a tattoo artist permanently mark wedding band tattoos onto their ring fingers.
"We're roofers. We don't have metal rings because it's dangerous in our industry," West explained. "So, we decided on a design for our tattooed wedding rings. We had 90% of it completed before the ceremony, and then our tattoo artist sanitized and completed our wedding bands right there in front of everybody."
West and Schmitt's guest list included friends, family members, foster families and customers from around the country.
White Castle menu items were served to guests along with a burger-shaped cake. And instead of throwing flower petals to celebrate the couple's marriage, guests were invited to throw dehydrated onion chips.
West said she hopes her story inspires children and teens who have a rough start in life to shape the life that they want.
She also wants adults to recognize that not all foster homes are created equal and that abuse can happen in households that are taking in at-risk youth.
West said her life didn't turn around until she was taken in by an aunt when she was between the ages of 16 and 17.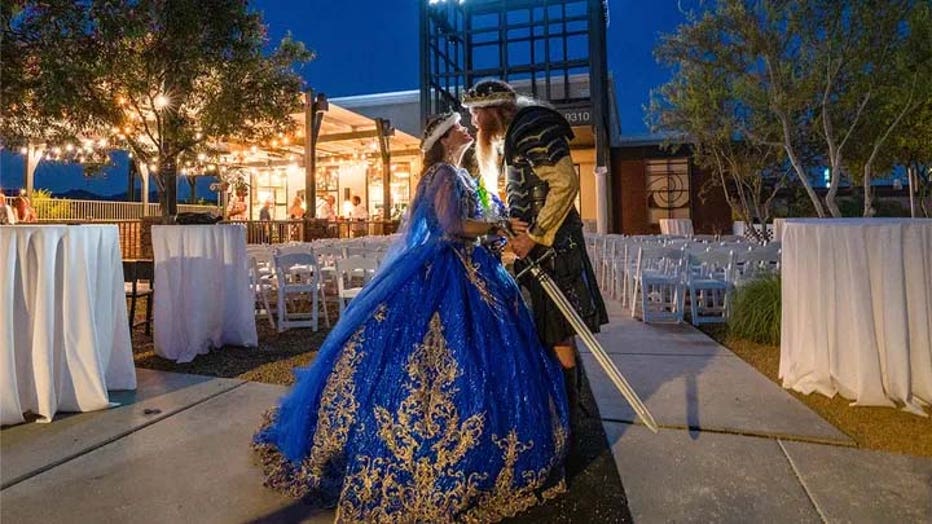 Jamie West, 41, and Drew Schmitt, 58, got married after spending 15 years together. West tells Fox News Digital she plans on changing her last name to Schmitt now that theyve had their fairy tale wedding. (Laura Segall Photography)
"I got really lucky because a lot of people helping me," West said. "My story is not unusual. There are kids across our country right now living what I lived through, and I want them to know that they have hope."
"I hoped one day I would find my prince charming and have a happily ever after and I got tired of waiting around," she continued. "I went out and tried to find him and I finally found him. And now I'm living my happily ever after and that's amazing."