Adorably tough: 'Frozen' inspired picture goes viral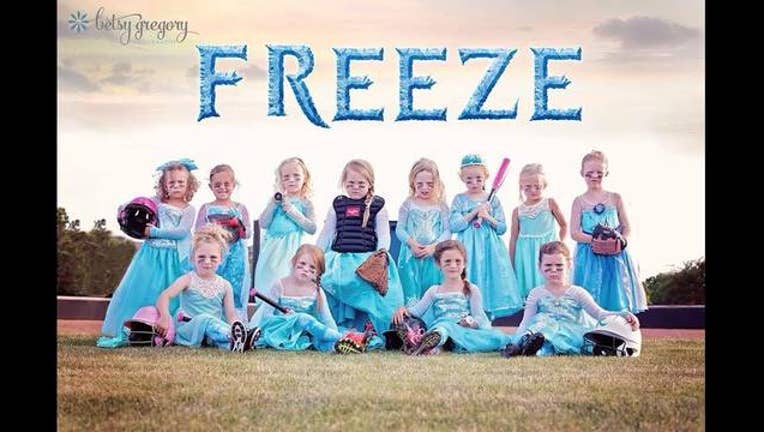 article
An adorable photo of a youth softball team quickly went viral with many thinking it was about girl empowerment, but the photographer says that was completely unintentional.
It all started with a group of moms in Oklahoma, which included photographer Betsy Gregory. Last fall, the moms decided to create a fun Frozen themed softball team for their daughters to enjoy. The team started as the "Sparkling Elsas" and turned into "The Freeze."
"Little girls love all things Frozen so when our team name became the Freeze, my wheels started turning," said Gregory. "I have seen images done with little girls looking tough in cute dresses and softball gear, so I figured why not add the Elsa dresses? It was hilarious taking the photo- the girls were a hoot!"
Gregory told FOX 5 she snapped a team photo for the girls and meant for it to be simply for fun, but it turned into something much more.
"We have been absolutely blown away! Humbled. Grateful. Never in a million years did we think this would happen."
The picture was posted to Gregory's Facebook right after she took it. She said the rest from there is history and it has circulated around the world with various hashtags including #Girlpower.
"The #likeagirl campaign is huge! Teaching our little girls that being a princess and getting dirty is ok," said Gregory.
Gregory said she wants the girls to be proud of who they are and feel empowered to take on this crazy world we live in.
"Beauty comes from within. God made us all unique and special- that is what is unintentionally reflected here," said Gregory.
The girls love the photo, according to Gregory, but the mother said they have no clue as to what has really happened since it has gone viral.
Gregory, whose daughter is the catcher in the middle with the adorably fierce face, has enjoyed every second of playing.
"The picture was icing on the cake to our fun and adventurous season," Gregory said.
The picture has been shared so many times that the team has lost count.
"Well, when Wonder Woman (Lynda Carter) shares your image, it speaks volumes! I think the message is that in life, it is really ok to try anything...it is all about grit and determination, knowing you can look good doing it and get a little dirty along the way!"
Gregory said this will be a great memory for the girls for many years to come.
Thanks to Betsy Gregory for chatting with us about this awesome picture! Check out her website and Facebook page for more great photos. 
APP USERS: Click here to view the photo gallery.