3 Years after Accident, Tripp Halstead's Mother Thanks Community for Support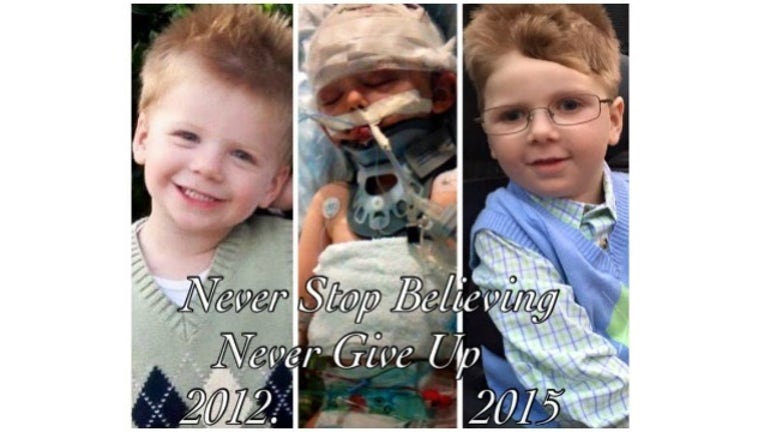 Thursday marks three years since Tripp Halstead was critically injured outside his Winder day care center when a tree limb fell on him. 
The accident took place on October 29, 2012. The metro Atlanta boy suffered severe brain injuries and spent months at Children's Healthcare of Atlanta following the accident.
Today, he is still on the road to recovery. 
Late Wednesday evening, Stacy Halstead shared an emotional post on the "Tripp Halstead Updates" Facebook page. 
"I couldn't be more proud of my son," Halstead said. "He has refused to give up over these past 3 years. He has worked so hard to get to where he is today and that's something to be celebrated." 
In the post, Halstead said she's deeply humbled by the support she has seen on social media. 
"All of my family and friends have changed their profile picture to a picture of Tripp."
Halstead went on to say without her family, faith, friends or the Facebook page, she wouldn't have survived. 
"My beloved Facebook page. Where you have let me into your lives. You cry with me, laugh with me. You can bring me back on my darkest days. You make me smile, you make me laugh, you make me roll my eyes and you have taught me self control. Lol"
Over the past three years, Halstead has shared many positive updates regarding Tripp's progress. More recently, in August, Tripp lifted his head all the way up by himself and earlier this month he started a new form of therapy in hopes of waking up any brain cells that were damaged in the incident.
Halstead said she has a game plan for Thursday, what she calls the third anniversary that Tripp survived the accident: he will attend school as normal, then they will head to the zoo. When her husband arrives home from work, they plan on watching their favorite episode of The Office, which was their family's favorite show three years ago and still is today. Finally, they will watch Tripp's favorite movie from three years ago Cars. 
Wednesday night, Halstead finished the Facebook post by saying she didn't plan on crying herself to sleep. She said she had an amazing, wonderful, beautiful child in her arms and she's proud to call him her son. 
Stacy Halstead's full Facebook Wednesday evening: 
Honestly I don't know where to begin...
First, I am so deeply humbled scrolling through FB. All my family and friends have changed their profile picture to a picture of Tripp.