Burgers with Buck: Muss and Turner's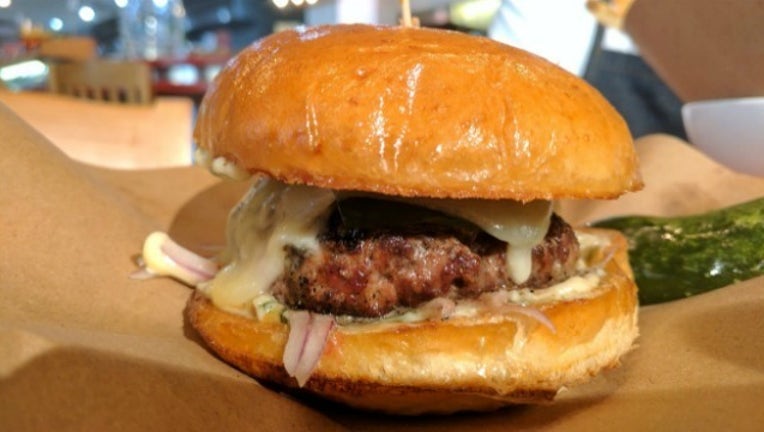 What's in a name? Some burgers have catchy or even fancy names that attract attention.  Others, not so much.  There's only one burger on the menu at Muss and Turner's in Smyrna, and wait until you hear what they call it.  
Are you ready? It is called. Wait for it. Wait for it..."The Burger".  The name is quite simple, the finished product is not. 
"The Burger" begins with a 6 oz. SFF grass-fed beef patty, grilled on a Big Green Egg.  We've got your attention now, don't we?
Then add roasted poblano pepper, melted cheddar cheese, red onion, cilantro aioli, and put it all on an H and F bun, and you get the burger that has been recognized both locally and regionally.
For #BurgersWithBuck, it is stop #80 on our celebration of all things burger in metro Atlanta and beyond.  Full disclosure though, Muss and Turner's has been on our list, as a highly recommended #BWB stop for a long, long time.  One big bite and the question that immediately came to mind...what took so long to get here.
It's juicy and it's flavorful, and don't even get me started on Eleanor's, the super secret (not so secret) hidden Sleakeasy Bar at M&T.  It is the prefect place to enjoy "the burger" with your beverage of choice.
For more information on Muss and Turner's including the menu, specials, and details about their new location, go to their website http://www.mussandturners.com/.
And, as always, if you have a favorite burger that you would like to see featured on, tell me about it on https://www.facebook.com/BuckFOX5 or https://twitter.com/BuckFOX5, and don't forget to use the hash tag #BurgersWithBuck and/or #BWB.