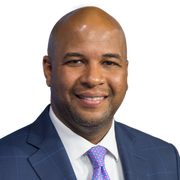 Tharon Johnson
Georgia Gang Panelist
Tharon Johnson is the founder and CEO of Paramount Consulting Group, a firm specializing in media relations, government affairs and electoral strategy. He has served at senior levels of federal, state and local campaigns, including those for former Atlanta Mayor Kasim Reed, Congressman John Lewis and former President Barack Obama. He continues to advise members of Congress and leaders in city and state government.
Tharon is frequently quoted in Newsweek, The Washington Post, The New York Times, Atlanta Journal-Constitution, Politico, Roll Call, The Hill and other publications. He regularly appears as a key contributor on several news channels and television shows, including CNN, as well as Georgia Public Broadcasting's "Political Rewind" and "Lawmakers," to provide insights and analysis of political developments at the national, state and local levels. In addition to "The Georgia Gang", Tharon is a permanent contributor to WABE's "Political Breakfast" podcast with Denis O'Hayer.
In 2012, Tharon was honored by Georgia Trend magazine as a recipient of their "40 under 40 Award," recognizing Georgia's Best and Brightest, and by the Atlanta Business Chronicle as a recipient of their "40 under 40, Atlanta's Rising Business and Community Leaders Award." James Magazine named Mr. Johnson one of the top 25 most influential Georgians. Additionally, Politics Magazine named Tharon among the Top 10 Democrats in Georgia, and he was the only African-American to be named a Campaigns & Elections 2010 Rising Star. In addition to his political honors, he was awarded the Unsung Hero award by his alma mater Clark Atlanta University.