Hilarious video of weekend's snowfall goes viral, social media relates to message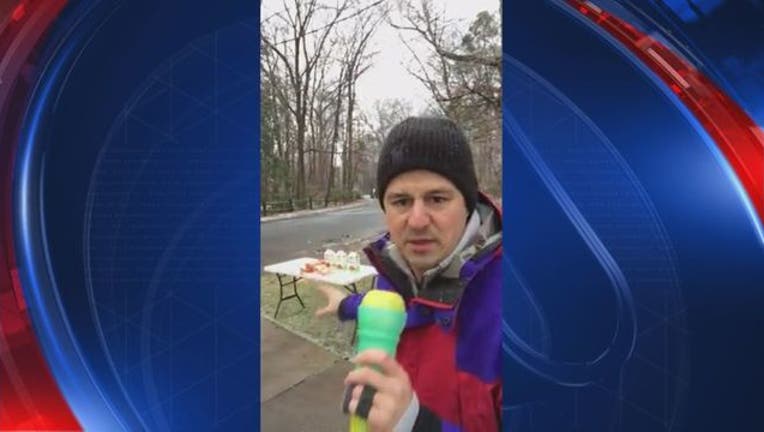 article
A Facebook user created a video of how people react to the word "snow" and it's gone viral for being hilarious and relatable.  
If want to make people go into panic mode just say, "it's going to snow."
But when it snows too little or doesn't meet the predicated forecast, people call it joke, and this is typically after grocery stores have been raided. So one Facebook user took that joke to another level-- and it was hilarious. 
In a viral video posted by Stephen Wilfong to Facebook, he acts as a reporter from "MiPhone5 News" that's giving the latest update on the snowfall from Charlotte, North Carolina. 
"We're getting reports right now that people are trapped in their cars in this white blanket of death that we're seeing here." 
The video has generated 2 million views and over 31,000 shares. Yes, it was that funny!  Just take a look for yourself. 
Wilfong told FOX 5 he was motivated to make the video from pure frustration and how individuals react to the word "snow" in a weather report. 
"Everyone makes a run on the grocery stores for bread and milk like it was cash in a bank during the Great Depression! It truly is very comical. I also wanted to give people something to laugh about because I know they share my frustration," said Wilfong. 
We've got to admit, he makes a valid point. Stores generally do encounter a shortage of bread and milk when the "s" word is spoken. On the upside, it's good for sales.
And according to reporter Wilfong, the city took matters into their own hands. It strategically placed "survival stations," which provided daily rations of milk and bread, throughout the city. 
"Get your milk, get your bread, it might save your life."
All while being delivered through an echo microphone-- genius! 
The hilarious video resonated so well with social media because of the comical twist it put to a situation that typically invokes panic and frustration.