Boy with autism helps rescue dogs by reading to them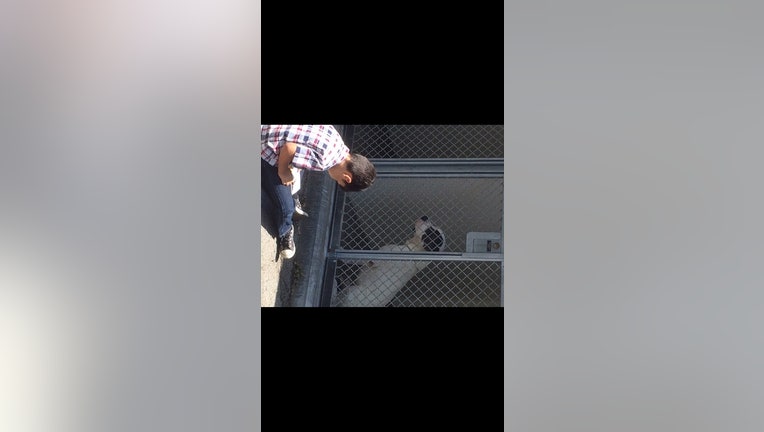 article
GARDENA, Calif. (KTVU) - A very special six-year-old boy is bringing some comfort to rescue dogs in shelters.
Jacob Tumalan is autistic. The Southern California boy has had a love for books since he was just a baby, according to his family.
And he's now sharing his love for reading to bring calm to dogs without a home.
Jacob has been participating in a program called "Rescue Readers," started by his own cousin.
The program allows children to visit various shelters and volunteer to read to the animals there.
Jacob recently walked into the Carson Animal Shelter, in Los Angeles County.
That's where he was immediately drawn to Pirate, a Pit Bull mix that arrived to the shelter a couple weeks ago after he got into a fight with a cat.
Jacob was immediately drawn to the dog, placed a mat down in front of its cage, and began to read.
Pirate appeared to have a calm come over him right away.
He became relaxed, stopped barking and it seemed as if he was listening as Jacob "worked his magic," according to Aaron Reyes, the deputy director of the County of Los Angeles Department of Animal Care and Control.
When Jacob learned of Pirate's issues with cats, the young boy chose a book about a kitty who wears colorful shoes.
Reyes says that dogs are social animals and can pick up on people who help them relax, and it appeared that's the effect Jacob had on Pirate.
"It's clearly something we can embrace," said Reyes.
Jacob also appears to be benefiting from his interaction with dogs.
Reyes said that you could see by the boy's posture that providing this service to dogs was lifting him and his confidence. 
The program is also helping the child's reading skills get stronger, according to Jacob's family.
Reyes described the interaction the boy has with the dogs as "nothing but good medicine."
The three-year-old Pit Bull mix has since found a home since Jacob's visit to the shelter.
But shelter officials in Los Angeles County say, if Jacob is interested, they want him to come back and continue to work with the animals in their shelter in a partnership they describe as "mutually beneficial."