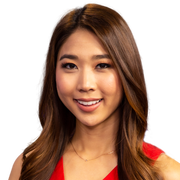 Janice Yu joined the FOX 5 team as a reporter in October 2019. 
She comes to Atlanta from Tucson, Arizona where she worked as a breaking news anchor, fill-in anchor and reporter. Janice spent some time in Texas and South Carolina when she was younger, but she calls Tucson home. 
She reported on a wide range of stories during her time in Tucson, including local features, issues along the U.S. - Mexico border, Senator John McCain's last senate run, and campaign rallies during the 2016 presidential election. Janice also had a once in a lifetime opportunity to fly with the U.S. Air Force Thunderbirds in March of 2019. She'll be proud to tell you she was able to pull 9 G's and even flew the F-16 jet!
Janice previously spent time reporting and anchoring in El Paso and Amarillo, Texas. She graduated from the University of Arizona (Bear Down!) with a degree in journalism.
When she's not working, Janice enjoys spending time with her family, working out, hiking and exploring new places to eat. She also loves spending time with animals, including her poodle and rabbit. She has swum with otters, pet a sloth, taken a selfie with a kangaroo and played with penguins. 
Janice was born in Seoul, South Korea and is fluent in Korean. 
She can't wait to explore everything Atlanta has to offer! 
The latest from Janice Yu
Police are searching for a white Mercedes-Benz which was caught on camera turning in front of a car, causing it to crash. The car, which has frontend damage on the driver's side, left the scene.
Police have warrants out for the arrest of 19-year- old Tiffany Swanson and 20-year-old Joshua Bryant.
An Archer High School student, who overcame challenges to get on the varsity basketball team, gets surprised from NBA All-Star.
Karlton Simmons is wanted in the shooting deaths of 55-year-old Derrick Dennis and 30-year old Josh Dennis.
For the sixth time, someone drove through this wooden fence in front of his home.
Kyla McDonough and other parents of Haw Creek Elementary school started a fundraiser for two young sisters who were hit by a car while walking to their school bus on Friday, Nov 15.
The former NFL quarterback and activist got lots of support from fans who turned up to see him in action.
Three employees at Thomas Drugs are thankful they were unharmed following an armed robbery on Sunday afternoon.
Dozens gathered to pay tribute to a murdered CAU student.