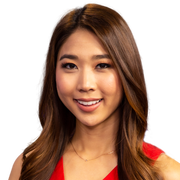 Janice Yu joined the FOX 5 team as a reporter in October 2019. 
She comes to Atlanta from Tucson, Arizona where she worked as a breaking news anchor, fill-in anchor and reporter. Janice spent some time in Texas and South Carolina when she was younger, but she calls Tucson home. 
She reported on a wide range of stories during her time in Tucson, including local features, issues along the U.S. - Mexico border, Senator John McCain's last senate run, and campaign rallies during the 2016 presidential election. Janice also had a once in a lifetime opportunity to fly with the U.S. Air Force Thunderbirds in March of 2019. She'll be proud to tell you she was able to pull 9 G's and even flew the F-16 jet!
Janice previously spent time reporting and anchoring in El Paso and Amarillo, Texas. She graduated from the University of Arizona (Bear Down!) with a degree in journalism.
When she's not working, Janice enjoys spending time with her family, working out, hiking and exploring new places to eat. She also loves spending time with animals, including her poodle and rabbit. She has swum with otters, pet a sloth, taken a selfie with a kangaroo and played with penguins. 
Janice was born in Seoul, South Korea and is fluent in Korean. 
She can't wait to explore everything Atlanta has to offer! 
The latest from Janice Yu
Police say the officer saw a teen shoot and kill his sister's boyfriend at the LaGrange apartment complex.
Gwinnett County Police have identified two people teenagers who are accused of stealing from local gyms while dressed in women's clothing and wearing wigs. 
In 2019, 988 firearms were reported stolen from vehicles across the city, according to Atlanta police. 
MARTA police are searching for a man after an assault on a MARTA train on Sunday. 
Dekalb County police are investigating after a woman in her 60s was found shot and killed in a Lithonia home Friday morning.
Crime was a big topic at the monthly Buckhead Council of Neighbors meeting Thursday evening.
Flo Sheain has decided to help save the life of her best friend, Collin Veasley, by donating her kidney.
Residents of The Preserve at Collier Ridge Apartments in northwest Atlanta say trash has been piling up in and around the dumpsters on the property for weeks. 
About 30 people are without a home after a fire at The Life of Harrington Park Apartment on Tuesday afternoon.