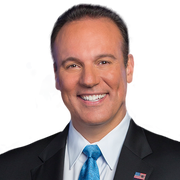 Ken Rodriguez
Sports Anchor
Ken Rodriguez anchors sports weeknights on FOX 5 News at 6 p.m., 10 p.m. and 11 p.m. 
His enthusiastic style of sports reporting knows no limits. Not only has Ken covered major events such as Super Bowls and World Series, he has also flown with The Blue Angels, bungee-jumped from a hot air balloon, rappelled from the side of a building to raise awareness for Special Olympics Georgia, and taken a quick scuba diving lesson in order to report on a man who feeds six foot barracudas by holding fish in his mouth!
The Emmy award-winning sportscaster is a native of Atlanta, though his broadcasting career has taken him all over the country with stops in Houston, Miami, Los Angeles, Jacksonville, Lansing, Oklahoma City, Macon and Montgomery.
Ken began his broadcasting career while in college at WAEC radio in Atlanta where he hosted a Hispanic program directed at Atlanta's Spanish-speaking community. He then worked at WCNN radio, CNN Sports and the Atlanta Hawks Radio Network.
Ken has won Emmys for his coverage of the Peachtree Road Race, FOX 5 5th Quarter shows, First Pitch specials, FOX 5 Pit Pass and High 5 Sports. He is especially proud of our ongoing 'High 5 Sports is IN YOUR FACE!' high school football coverage. It has become a weekly event on football Friday nights. Ken captures the community's passion for high school football with a fun and entertaining delivery.  Also near and dear to his heart is his work with the Special Olympics Georgia.
Ken graduated from McEachern High School in Powder Springs, later attended Furman University on a football scholarship and graduated from Georgia State University. Ken was recently inducted into the McEachern High School Athletic Hall of Fame.  He has also been recognized by the Greater Atlanta Chapter of the National Football Foundation for his contributions to amateur football, and by the Cobb County Schools Foundation for contributions to the school system.   Ken was inducted into the National Academy of Television Arts & Sciences Southeast Chapter's Silver Circle for leaving his mark through a lifetime of dedication to the television industry.
He and his wife Jeanne (his high school sweetheart) have two children and reside in Atlanta.
The latest from Ken Rodriguez