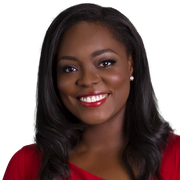 Marissa Mitchell
Anchor/Reporter
Marissa Mitchell is an anchor and multimedia reporter at FOX 5 Atlanta. She joined the station in September 2015. The Atlanta native is excited to do what she loves at FOX 5, where she interned as a college student.
Marissa previously worked as an anchor/reporter at WBMA, the ABC affiliate in Birmingham, Alabama. There, she often led the station's coverage of breaking news and city politics. She covered everything from natural disasters to college football championship games. Marissa started her television career at WTVC, the ABC affiliate, in Chattanooga, Tennessee. In 2015, she was featured as a news analyst on BBC World News. The National Association of Black Journalists once nominated her for a general assignment reporting award.
Marissa received a bachelor's degree in political science and journalism from Emory University in Atlanta. She later obtained her master's degree from Northwestern University's Medill School of Journalism in Evanston, Illinois. She attended the school on a full-tuition, media management scholarship from the McCormick Foundation. The scholarship included a curriculum and certificate program at the Kellogg School of Management.
After graduating, Marissa was selected to participate in the News 21 fellowship, a nationally recognized multimedia program sponsored by the Carnegie Corporation and Knight Foundation. Marissa is active in the community as a motivational speaker and event host. She's also a proud member of several organizations, including Alpha Kappa Alpha Sorority, the Atlanta Association of Black Journalists, the National Association of Black Journalists and the PIVOT Foundation, a nonprofit that helps women re-enter the workforce.
In her free time, Marissa enjoys spending time with her family and friends, volunteering with youth and women organizations, and traveling.
The latest from Marissa Mitchell
Gwinnett County police officers are hailed as heroes after rescuing a man who was pinned between his car and the wall of a McDonald's drive-thru.
DeKalb County families came together Tuesday, holding a prayer vigil in response to a string of deadly violence.
A DeKalb County police officer is being hailed a hero after saving a man's life following a shooting.
The late Diahann Carroll has a stage named in her honor at Tyler Perry Studios
A Clayton County man is thankful to first responders who saved his life during a dog attack.
It's been a tough year for Cherokee County firefighter Randall Droke, but he's carrying on with his son's legacy.
The family of a man left in critical condition after a deputy-involved shooting are calling the encounter "unjustified."
Police arrest a man after they said he pulled out a gun on a driver in a busy northeast Atlanta intersection. Officers said it happened in an act of road rage.