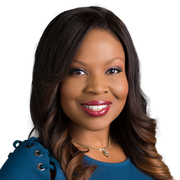 Sharon Lawson is an award-winning journalist who joined FOX 5 as an anchor of Good Day Atlanta in September 2017. In April 2019, Sharon was tapped to co-anchor the new 10 a.m. hour of Good Day, in addition to her appearances throughout the rest of the morning newscast.
Before coming to FOX 5, Sharon worked for 14 years as an anchor/reporter at NBC 6 in Miami. Sharon's two-decade career started on South Florida's Gulf Coast. A University of Central Florida graduate, Sharon cut her teeth as all-purpose correspondent at Sarasota's WWSB. Simultaneously working as a photographer, editor and reporter prepared her for her 1995 debut as an anchor at WMDT in Salisbury, Maryland. From 1997 to 2000, she served as the weekend anchor at WHIO in Dayton, Ohio, before taking over anchoring duties at WFTC in Minneapolis and finally returning to Florida's east coast to cover the Miami-Fort Lauderdale market.
Born to Jamaican parents in Toronto, Canada, Sharon and her family moved to Florida in the mid-1980s. Lawson's path to broadcast journalism started at age 5 when her mother - and biggest supporter - spied her practicing intros and outros with a hairbrush and a mirror ("This is Sharon Lawson with the 6 o'clock news."). That little girl's dream has grown into a career of professional merit and community service. Any mother would be proud. Though she can count interviews with His Holiness, the 14th Dalai Lama, Archbishop Desmond Tutu and heavyweight champion the late Muhammad Ali as career highlights, her passion lies with helping young people to succeed, just as her mother and mentors supported her. She strives to make a positive difference by fostering nurturing environments for them and encouraging them to live their dreams.
A scholarship has been created in her honor, and she regularly mentors young women in their professional and spiritual walks. Sharon spends her free time with her husband, Chris Pappas, enjoying the outdoors, running, biking and traveling the world, meeting people, and collecting new stories to tell.
The latest from Sharon Lawson