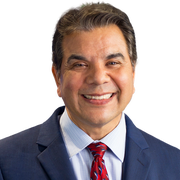 George Franco is a reporter for FOX 5 News. Before arriving in Atlanta in 2005, George reported for KOVR in Sacramento, California. George began his broadcasting career in Yakima, Washington. He then anchored the weekend news at KBAK in Bakersfield and the Orange County News Channel in Southern California. George also reported in San Jose, California; San Antonio, Texas; and Albuquerque, New Mexico.
Nominated for three Emmys, George has won various awards from the Radio Television News Directors Association, including best reporting and best feature. A graduate of the University of Washington in Seattle, George has traveled extensively throughout the Western United States, Canada, Alaska and Central America.
Always hungry to report the big story, George has covered the Heaven's Gate cult suicides in San Diego, the destruction of Hurricane Mitch in Honduras, the crash of Alaska Airlines Flight 261 off the California coast and the historic recall election, which led to actor Arnold Schwarzenegger becoming governor of the Golden State.
"I love reporting because I get to see the world from a living historian's point of view. What a great job it is to see history unfolding," says George.
George is fluent in Spanish, but he can't remember if he learned English or Spanish first! In his free time George loves to fish and fly hang gliders. He is thrilled the Peach State has some world-class trout waters and a world-renowned flying site at Lookout Mountain.
The latest from George Franco
Police have stepped up patrol around a Stone Mountain neighborhood after reports of a suspicious man.
A harrowing story from Athens where a young man was lured to a phony address where he was ambushed and robbed.
Police are searching for a man who robbed a Midtown Atlanta restaurant at gunpoint and then ran to a nearby MARTA station.
"We would like to reward this Grinch with a free stay at Floyd County Jail that includes an excellent Christmas dinner."
Tuesday night, the Jackson County Board of Elections and Registration ruled the recall election against the Hoschton mayor and mayor pro tem can now move forward.
Two people found dead in McDonough cul de sac on Thanksgiving.
A 25-year-old man was killed in a hit and run.
In Conyers, a roadway has started to open up in front of a business, causing concerns over safety and customers.
McDonough police are on the lookout for a credit and debit card bandit who was recorded freely spending other people's money.