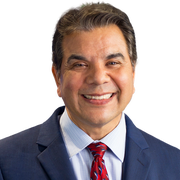 George Franco is a reporter for FOX 5 News. Before arriving in Atlanta in 2005, George reported for KOVR in Sacramento, California. George began his broadcasting career in Yakima, Washington. He then anchored the weekend news at KBAK in Bakersfield and the Orange County News Channel in Southern California. George also reported in San Jose, California; San Antonio, Texas; and Albuquerque, New Mexico.
Nominated for three Emmys, George has won various awards from the Radio Television News Directors Association, including best reporting and best feature. A graduate of the University of Washington in Seattle, George has traveled extensively throughout the Western United States, Canada, Alaska and Central America.
Always hungry to report the big story, George has covered the Heaven's Gate cult suicides in San Diego, the destruction of Hurricane Mitch in Honduras, the crash of Alaska Airlines Flight 261 off the California coast and the historic recall election, which led to actor Arnold Schwarzenegger becoming governor of the Golden State.
"I love reporting because I get to see the world from a living historian's point of view. What a great job it is to see history unfolding," says George.
George is fluent in Spanish, but he can't remember if he learned English or Spanish first! In his free time George loves to fish and fly hang gliders. He is thrilled the Peach State has some world-class trout waters and a world-renowned flying site at Lookout Mountain.
The latest from George Franco
With Halloween approaching many residents in a Walton County neighborhood have concerns about a big Bovine running free in the area.
A Griffin man is facing a charge of cruelty to animals after police said he left a litter of puppies in a zipped book bag in front of a church.
The Pickens County Board of Education made a controversial move regarding bathrooms to accommodate transgender students. It has left many in the community feeling angry and left out. Parents turned out at Thursday night's meeting but were unable to voice their opinions since the item was not on the agenda.
The invasive northern snakehead, which can breathe out of water, turned up at a private pond.
A Covington family was by the side of their loved one at Atlanta Medical Center Tuesday as they made the difficult decision to take her off life-support.
The judge ruled that the mayor and mayor pro tem did not fulfill their duty to establish an ethics board to investigate complaints against them.
A historic haul in Hall County nets nearly $2 million in drugs, guns, and cash.
A Kennesaw family is holding their collective breath, afraid of what may come next after someone shot multiple rounds into their home. Now, they are going public with hopes someone who knows something will call the police and help bring some resolution and closure to the case.
The driver behind the wheel of a car that crashed into a pickup truck, killing four people, while fleeing from law enforcement in Butts County Friday, has since died.