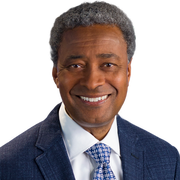 Morse Diggs is a reporter for FOX 5 News. Morse came to FOX 5 from the Atlanta Journal-Constitution, where he was the City Hall correspondent.
Before landing in Georgia, he worked for the Akron Beacon-Journal. Morse was part of the Atlanta Journal team that won a UPI award for coverage of the John Lennon/Mark Chapman stories. He is also a participant in the Leadership Atlanta Program.
In 1982, Morse exchanged his pen for a microphone and started his television career. Covering Atlanta city government, Morse has broken many exclusive stories for FOX 5 News. His work has won Morse a number of accolades, including his induction into the Atlanta Press Club Hall of Fame.
A graduate of Amherst College, Morse is married with two children and lives in Atlanta.
The latest from Morse Diggs
The chairwoman of the Atlanta Council Public Safety Panel knows it is hard to corral street racers when they pop up in several locations all at the same time.
An internal Atlanta police document shows another 36 officers voluntarily left their jobs in August. That is a lot of resignations and retirements for one month.
The gun-play is not a once-a-year occurrence. There were more shots outside the property Wednesday night. 
Police said too often a private sale turns into an armed robbery.
A Buckhead jogger said men in a van tried to kidnap her.
A car theft victim says she held onto her car door handle trying to get inside. 
Cars are taken in metro Atlanta every day. Police sometimes secure surveillance footage from city cameras. On Monday, something different happened after a motorist who was using a self-service three-minute carwash became the latest victim of a slider.
Neighbors who live near a Buckhead home where ticketed parties are being staged are complaining that women, wearing little clothing, are posing on the balcony of the home in the middle of the day.
One home in the Buckhead area of Atlanta was spotlighted on TMZ. The neighbors complain that the profile did not make them proud but frustrated. The broadcast showed a mansion packed with young people partying.