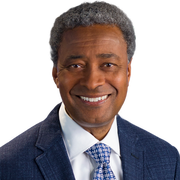 Morse Diggs is a reporter for FOX 5 News. Morse came to FOX 5 from the Atlanta Journal-Constitution, where he was the City Hall correspondent.
Before landing in Georgia, he worked for the Akron Beacon-Journal. Morse was part of the Atlanta Journal team that won a UPI award for coverage of the John Lennon/Mark Chapman stories. He is also a participant in the Leadership Atlanta Program.
In 1982, Morse exchanged his pen for a microphone and started his television career. Covering Atlanta city government, Morse has broken many exclusive stories for FOX 5 News. His work has won Morse a number of accolades, including his induction into the Atlanta Press Club Hall of Fame.
A graduate of Amherst College, Morse is married with two children and lives in Atlanta.
The latest from Morse Diggs
Neighbors frustrated by two years of parties for hundreds at an unoccupied home thought they had seen it all.
It is SEC Championship weekend and while a lot of focus is on the field, many are focusing on the wallet, and some not in the best of ways.
Atlanta voters decided Tuesday that Andre Dickens would become the city's next leader.
A TSA screener wrestled with a passenger over a bag that had a prohibited item inside.
An Atlanta mayoral candidate is claiming dirty politics in a recent ad that would appear to give them darker skin.
Atlanta investigators believe they have found the gun that was brought to a Hartsfield-Jackson Atlanta International Airport security checkpoint.
As she promised, Keisha Lance Bottoms has found some jobs for teens who crowded intersections trying to get motorists to hand over a buck for a bottle of water.
Three hundred Atlanta residents are going to receive direct cash payments approved by city leaders and funded with taxpayer money. While the program was approved by the Atlanta City Council, there were some concerns over who controls the $2 million in taxpayer money.
Fulton County Sheriff Patrick Labat will give new hires a huge bonus for earning the badge and agreeing to commit to the department.