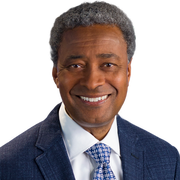 Morse Diggs is a reporter for FOX 5 News. Morse came to FOX 5 from the Atlanta Journal-Constitution, where he was the City Hall correspondent.
Before landing in Georgia, he worked for the Akron Beacon-Journal. Morse was part of the Atlanta Journal team that won a UPI award for coverage of the John Lennon/Mark Chapman stories. He is also a participant in the Leadership Atlanta Program.
In 1982, Morse exchanged his pen for a microphone and started his television career. Covering Atlanta city government, Morse has broken many exclusive stories for FOX 5 News. His work has won Morse a number of accolades, including his induction into the Atlanta Press Club Hall of Fame.
A graduate of Amherst College, Morse is married with two children and lives in Atlanta.
The latest from Morse Diggs
Thieves have taken advantage as restaurant customers line up to go home, causing valet runners to leave the valet podium, they then have been able to pull the door open.
A Rockdale County jury finds that a former deputy did not stalk a family in the county.
An Atlanta couple was given a verbal countdown by a gunman to turn over their property during a street robbery. The husband and wife were taking a relaxing stroll one evening in their Morningside neighborhood.
A metro Atlanta man who said he was the victim of a young woman who was arrested, accused of stealing $1 million in jewelry is upset that she got bond.
Sheriff Labat demanded swift action on his various requests for resources so his staff can try to put down a spike in crime.
Sharon Gay said the city cannot keep doing the same thing and expect a different result when it comes to fighting crime.
The city of Atlanta is 40 laborers short and is having a hard time collecting all the waste.
One council member disclosed one shocking incident in which a 15-year-old pulled a weapon and shot into a city pool. No one was injured in that incident.
A member of the Atlanta City Council is proposing adding more cameras to the city streets to become more like London in terms of safety and security.