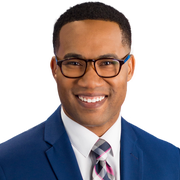 Kerry Charles
Anchor/Reporter
Kerry Charles is an anchor and reporter for FOX 5 News. Look for him anchoring FOX 5's weekend evening newscasts, substituting on various newscasts, and reporting throughout the week. Before joining the FOX 5 team, he spent seven years as a morning news anchor in Greensboro, N.C. Kerry has also worked at stations in Shreveport, Louisiana, Cincinnati and Columbus, Ohio.
Kerry loves to cover big stories. When Atlanta hosted Super Bowl LIII, Kerry covered festivities from Centennial Olympic Park, interviewed celebrities during a music festival, reported on extensive security efforts, and field anchored as thousands of people flocked to downtown Atlanta. Oh, he joined FOX 5's live team coverage on the night of the big game!
Kerry's career has taken him to the scenes of other notable stories. He went to Washington, D.C. to anchor coverage of the shooting that took place during practice for the 2017 Congressional Charity Baseball Game. He has also covered one Republican National Convention, two Democratic National Conventions, and a presidential inauguration. Kerry was there for the 50th anniversary of the March on Washington for Jobs & Freedom, special commemorations at the National D-Day Memorial (Bedford, VA) to mark 70 years since the Allied invasion along the beaches of France to retake Europe from Nazi Germany, the shooting at Emanuel AME Church in Charleston, South Carolina, and the removal of the Confederate flag from the grounds of the South Carolina statehouse.
Being involved in the community is very important to Kerry. In addition to serving as a mentor to aspiring journalists, Kerry is the inspiration behind an ongoing effort to provide financial literacy workshops, free lunch, grooming lessons and haircuts to elementary and middle school students. He is a member of Phi Beta Sigma, as well as the National Association of Black Journalists. NABJ has afforded Kerry the opportunity to mentor many young and aspiring journalists. 
In April 2018, Morehouse College inducted Kerry into its MLK College of Ministers and Laity. The honorary college honors professionals who, in part, use their platform to better the lives of others. An Emmy Award winner, Kerry was named a University of Cincinnati Communication Alumni Champion in 2014. The distinction was only bestowed upon 50 alumni in the Department of Communication's history. It helped mark the department's 50th anniversary. Communication Alumni Champions have gone on to achieve success in their careers or professions, have made a big a difference in their local communities and/or have provided significant support to UC or the department.
Kerry grew up in Columbus, Ohio, but has a host of family members in metro Atlanta.
The latest from Kerry Charles