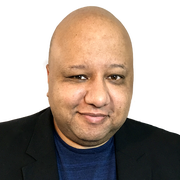 George Chidi is a 40-something ne'er-do-well refugee from the Atlanta Journal-Constitution who, prior to stumbling upon the job of a lifetime with the Atlanta Downtown Improvement District, earned an unmarketable MBA from Georgia Tech. He also holds a journalism degree from the University of Massachusetts at Amherst, which he has not yet chosen to pawn at Manuel's Tavern to cover his tab. Chidi has contributed to Creative Loafing, Atlanta Magazine, The Guardian, VICE, Computerworld, The Bitter Southerner, CNN.com and other disreputable publications. His journalism career began as an enlisted U.S. Army news reporter covering infantry training in the Pacific with the 25th Infantry Division – a job made excellent by the fact that it is extraordinarily hard to fire a military journalist.
While pretending to work as a business consultant and writing for the scurrilous political blog Peach Pundit, Chidi earned the privilege of sitting in the cheap seats of the Georgia legislature visitors deck from time to time to fling his venomous body fluids onto their desks and in their hair and their beverages. He also served on the city council of Pine Lake, population 700 discounting geese, which paid $599 a year and requires an encyclopedic understanding of goose excrement to perform effectively.
Chidi is happily divorced, without children. His mother tolerates him. His new wife does not tolerate his mother. He hates his pets and they hate him right back.