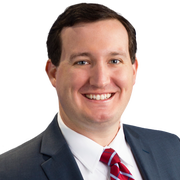 Cody Chaffins
Sports Anchor/Reporter
Cody Chaffins is the weekend sports anchor for FOX 5 Atlanta, host of High 5 Sports and Dirty Bird Report. Cody grew up in Atlanta and has spent the last decade covering his hometown for FOX 5 Sports.
As a football player at Chamblee High School, Cody once spent his Friday nights on the field, but now he prefers to shine the spotlight on the next generation.
During his time at FOX 5, Cody has covered Super Bowls, World Series, College Football Playoffs, Daytona 500, and the Masters. Cody says one of his favorite assignments came in the summer of 2014, when he and Good Day Atlanta's Ron Gant covered the trio of Braves inducted into the Baseball Hall of Fame in Cooperstown, New York.
Born and raised in Stone Mountain, Cody grew up during a heyday of Atlanta sports, experiencing the Braves' 1995 World Series title, the 1996 Olympics and the Falcons' 1998 Super Bowl run. Now he is passing on his passion for the home teams with his son.
After graduating from the University of Georgia, Cody started his broadcasting career and honed his love for Friday nights under the lights at WNEG-TV in Toccoa, Georgia. He has also spent time at WJXT in Jacksonville, Florida.
The latest from Cody Chaffins