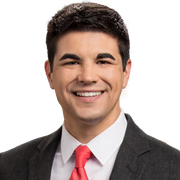 Ryan Beesley
Meteorologist
Start your weekend mornings by getting the latest weather information from meteorologist Ryan Beesley. Ryan joined the FOX 5 Storm Team in March 2017 and appears on the weekend morning editions of Good Day Atlanta. You can also see him during the week on Good Day Atlanta at 10 a.m. and FOX 5 News at Noon.
Ryan is from the Atlanta area and graduated from Roswell High School in 2008. After graduation, he attended the University of South Alabama to pursue a degree in meteorology. His senior year, he was awarded the top forecaster award for the class of 2012.
Shortly after completing his degree, Ryan accepted his first on-air position at WLOX in Biloxi, MS. During his time in Biloxi, he covered Hurricane Isaac and the Hattiesburg EF-4 tornado that struck on February 10, 2013. From there he accepted a job at WALB in Albany, GA, then moved on to Knoxville, TN before returning home to Atlanta.
In addition to his work as an on-air meteorologist, Ryan has chased more than 30 tornadoes, including the tornado outbreak on April 27, 2011.
Ryan travels to schools around north Georgia teaching students about weather, storm chasing and what it's like to be a broadcast meteorologist. If you would like Ryan to visit your school, send him an email from your school account to ryan.beesley@foxtv.com. Away from work, Ryan enjoys spending time with his family and anything outdoors. Some of his favorite hobbies are golfing, fishing, grilling and hiking.
The latest from Ryan Beesley