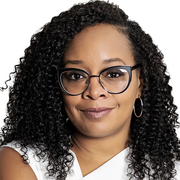 LaDawn "LBJ" Blackett Jones is a dedicated wife, mother, author, trial attorney, television contributor, entrepreneur, former Georgia State Representative, mentor and community advocate. After completing her education at Tennessee State University and Tulane Law School, "LBJ" began her dream job as an Assistant District Attorney in her hometown of Atlanta, Georgia. She left the DA's office in 2010 as a Chief Senior Assistant District Attorney and the office's first Director of the Community Prosecutor division.
LBJ still operates the LBJ Group, LLC, Atlanta's only "holistic law firm" handling criminal, family, and trademark law. She has also opened two additional businesses PolitaCoach, llc, a political strategy and campaign training company, and HQ Auburn an African American business incubator and co-working office on the historic Auburn Ave.  
In 2012, Jones was elected to the Georgia General Assembly and served two terms as the State Representative for southwest Atlanta, College Park, East Point and Douglas County. In 2016, she was selected by Bernie Sanders to serve as the Georgia State Director for his presidential campaign. During her tenure in the General Assembly, she was on the team of legislators that created the City of South Fulton, a predominantly African American and Georgia's 5th largest city. LBJ also made history as South Fulton's first City Solicitor and organizer of the viral photo of the first American city where all criminal justice leadership positions were held by African American women.  
When she is not in a courtroom, LaDawn is a regular legal and political commentator appearing as a contributor each election night since 2016 on Atlanta broadcast television, TvOne, RT America, Law & Crime News, One America News Network, MSNBC, Fox News, 1380 WAOK, CBS, Dr. Drew, iHeart Radio and several other television and radio stations throughout the country. LaDawn is moving from her career as an attorney into a career as a writer. While currently finishing her third commercial book, LBJ writes for GeorgiaPol.com, Georgia's most popular political blog. Her second book, Cheating but not Cheated: A Memoir of the Atlanta Public Schools Cheating Scandal was the inspiration for a documentary, One Child Left Behind expected for release in Spring 2019.